We're excited, are you Hitchin?! Whilst thankful for Zoom-friendly matwork this last little while, we can't
wait to get back in the studio. To apparatus focused Reformer, Barrels, Tower classes and so much more.

Here's what you can do and when, this summer at The Pilates Pod studio, Hitchin: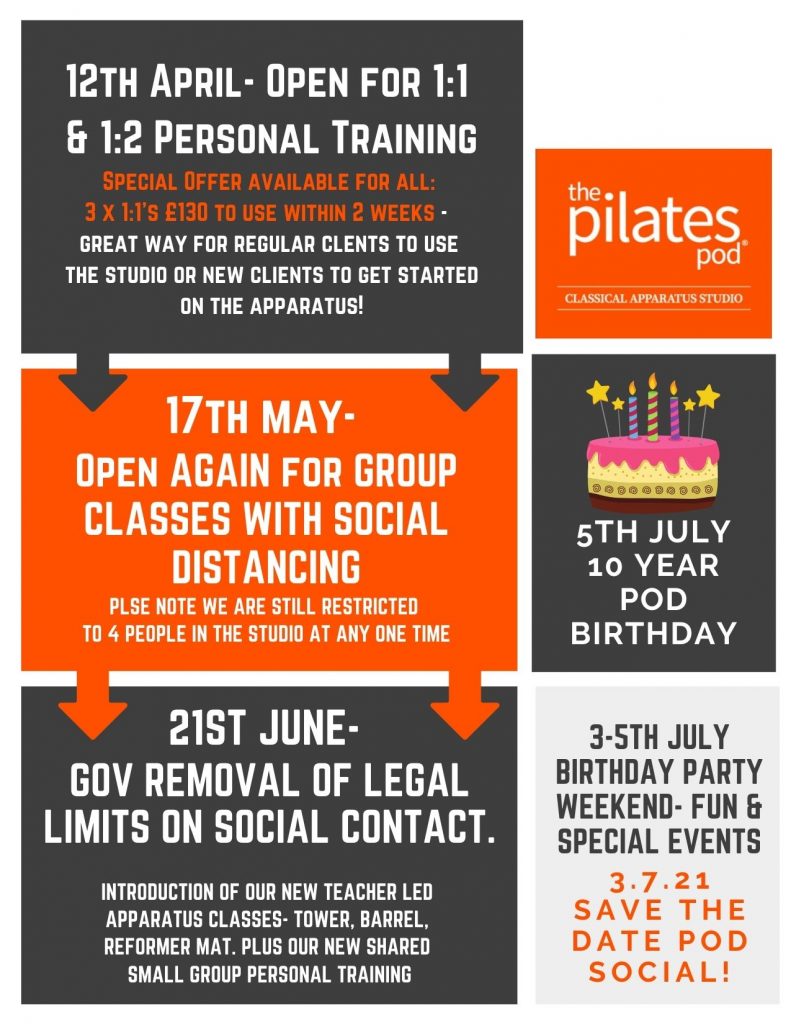 From Monday 12th April – Private Training Sessions: 1:1s & 1:2s
Join us for 1:1 private training sessions on the apparatus. Bring a friend to make it a 1:2 session,
also known as Duet.
The full attention you receive during 1:1 & 1:2 private training sessions, make them perfect for
refreshing your workout memory (after a year in lockdown!)

1:1 & 1:2 sessions enable our teachers to understand your body & your specific workout needs, helping you understand the basic principles of Pilates & how to use the apparatus. You'll work on a an individual workout plan with the whole studio apparatus, made to meet your personal needs based on how we see you move on the Mat and Reformer.
Until 17th May, all group classes remains mat based online as per the current timetable.
If you do wish to attend 1:1's virtually, you will need to book first then let us know so we can set up a Zoom link for your session. Email us at hello@thepilatespod.co.uk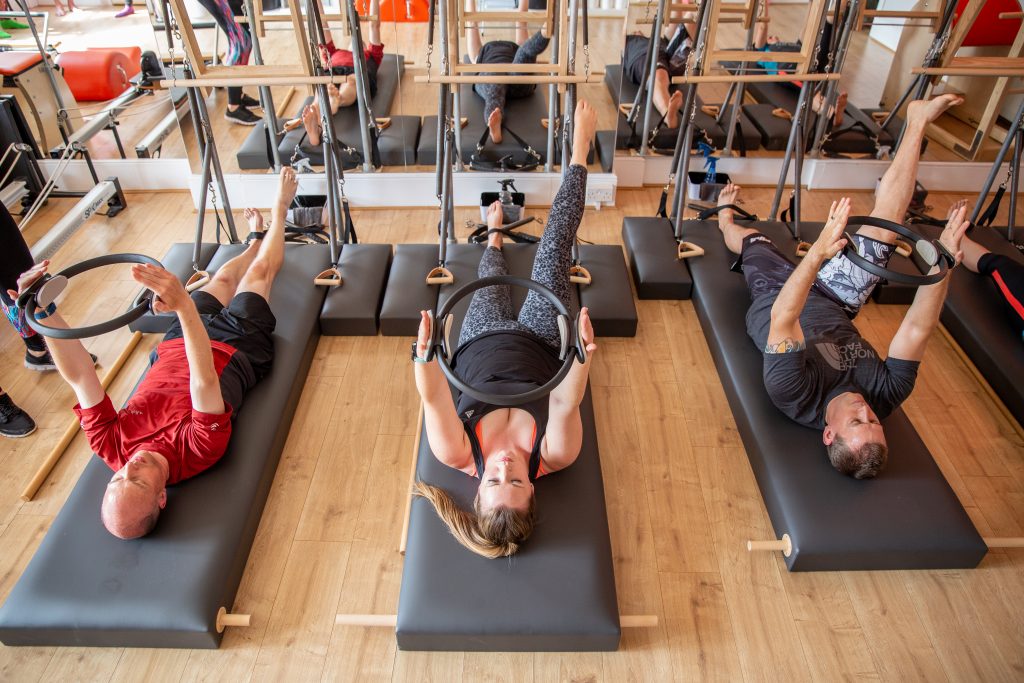 RE-OPENING SPECIAL OFFER
3 x 1:1's £130 (usually £174-£195) BOOK HERE
3 x Duets with a Buddy £99 each BOOK HERE
First class must be booked by midnight Sunday 28th March. All offers have 14 days expiry from 1st visit. 1:2 sessions must be bought 1 in person's name AND 1 on behalf of other person. Please note we are not able to swap a class membership for studio 1:1's. Can also be taken online if you wish. Sessions to be used in April only.
From Monday 17th May – Group Apparatus Classes
Join us for the return of our group studio apparatus classes at our studio in Hitchin. The usual class size of 7 reduced to 4, whilst restrictions continue.
Created for those who are healthy and injury free who can handle the apparatus. Group classes are generic workout sessions, guided and led by our teachers for your wellbeing & injury prevention. Variations and modifications during the session are possible, but are not specifically for your individual requirements.
The timetable is NOW UP online for you to book in. Here are the 3 type of group classes to enjoy from May 17th:
Tower Class– focusing around the Tower/Wall Unit, you'll work on your overall wellbeing, strength, stability & stretch. Building over time. You'll also benefit from matwork, small barrel, magic circle & toe correctors in these classes. An easy piece of apparatus to jump on and go, and a good place to start in your group class Pilates journey.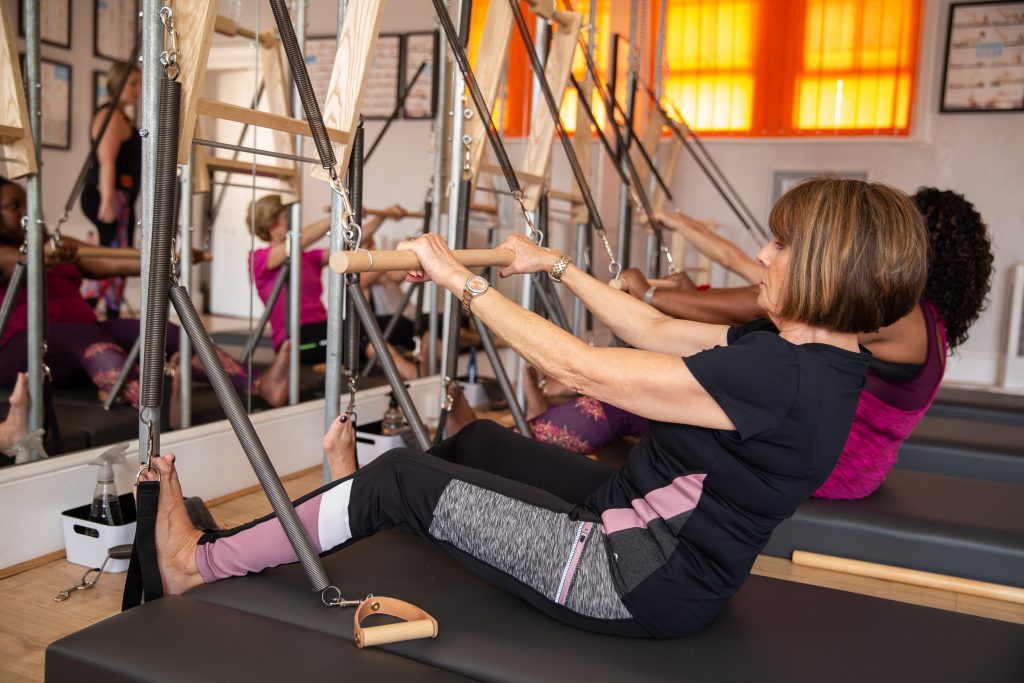 Barrels Class*– focusing around the small barrel, spine corrector and ladder barrel, deeper stretch, expansion and opening of the chest, hips & back is the aim of these classes. Strength & control addressed with smaller base support workouts. Perfect for those wanting to develop their practice and their body, and a great antidote to rounded upper back posture and desk work!
*Please note Barrels Class is not suitable if you're new to Pilates or you have a weak back/abdominal control.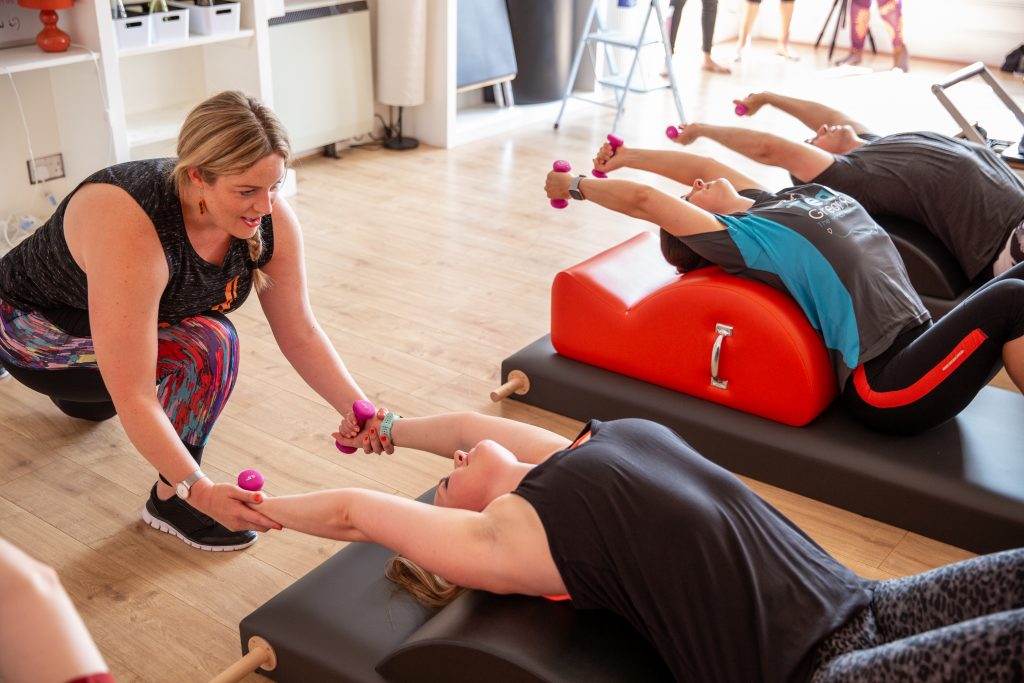 Reformer & Mat Class– the bread and butter of Pilates! Reformer and Mat have a distinct order to the exercises, with transitions to link them together. In this class, you'll learn and work on your intro level of each, to grasp the real authentic experience of Pilates. If you want to further your practice and move into our Shared Semi Private training and grasp the full experience of Pilates, you will want to be a regular on this class! Come away from these classes more self aware & ready for independent practice.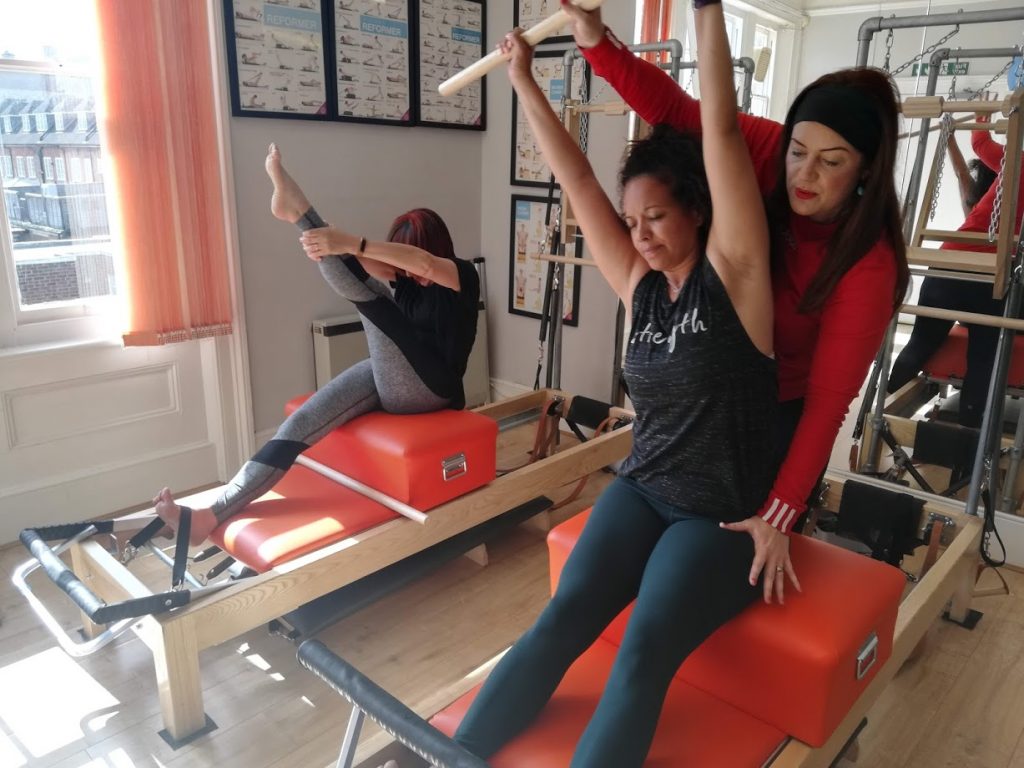 Virtual Mat Classes– we are embracing our new hybrid world. After 17th May, our group class timetable changes to our new In Person Studio Apparatus Classes plus a new timetable of Live Virtual Mat Classes. Expect the same great teachers doing Classical Pilates in our new:
Dedicated Beginners Virtual Class, General Level Mat, Intermediate Mat, Stretch & Fascia Release, Flexi Band Resistance Class.
Please note when you book a class, you should receive an automated booking confirmation and Zoom link. This will happen successfully if you have checked out our 5 Steps to Success Guide before you book.
Live Stream Studio Mat Classes– 3 weekly classes will also be available in the studio with us whilst also being live streamed out to our friends who want to join us virtually. The same great class but in the comfort of our studio with our mats and small props so no need to bring anything!
——————————————————————————————————————————————————-
Plus we are bringing you Shared Semi Private Training 1:4 –
These are not classes but semi led more independent training- the pinnacle of Pilates! A smaller group of up to 4 people sharing an individual private training experience that's more fun and cheaper than 1:1. You will have access to the full Pilates studio of all apparatus. You will work out and develop your practice on the Reformer and Mat exercises, then move on. Either you can either decide where you want to go next, or with the help of your teacher who will use their skills, knowledge and time to really focus their eyes on what YOU need on that day. Use the apparatus and exercises around the studio in order to help you achieve your goals and get better at the Reformer, and ultimately the Mat (the goal of it all!) You will need to come to the session with an understanding of the intro mat and reformer order, in order to progress. This is the ultimate goal for anyone doing a Pilates practice who wants to really become more independent, get on and change their body and mind. (Min 5 x 1:1 sessions or 15 group classes and a knowledge of minimum intro Mat and Reformer order is required in order to attend.)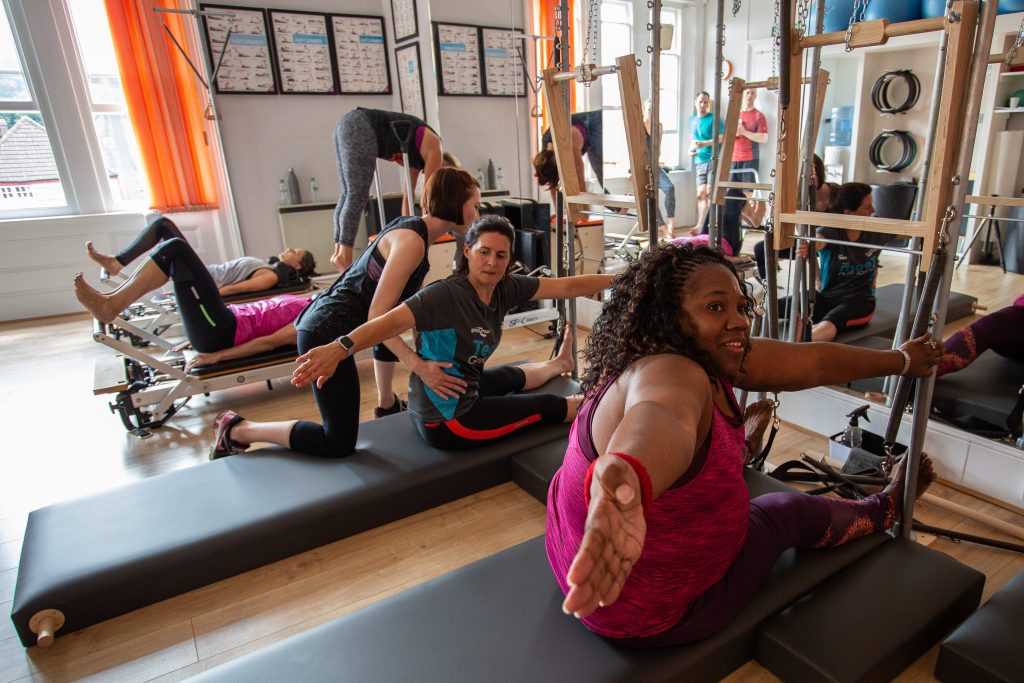 From Monday 21st June – Full Studio Return (fingers crossed!)
We're planning so much ahead of a 'return to normal' this summer as the government end social distancing. Plus our 10th birthday celebrations on July 5th so save your diaries for the weekend 3-5th July.
We'll be continuing our virtual classes, developing our new Teacher Training programme, as well as launching an exciting NEW Video On Demand service; Pod TV! – enabling you to workout with us but at home, to your own schedule, whenever you want it!
We encourage you to book, move and manage your own classes and 1:1's yourself online using our fantastic Mind Body booking tool, but we're more than happy to help show you how if you need a little coaching. Should you have any questions about this or our re-opening please get in touch here.
Please take time to update yourselves with all the info you need for returning to the studio. It explains it all here.
As lovely as it's been to see you over Zoom, we can't wait to see you in person so very soon.
Until then, stay safe… and book in!!