Explore – Learn – Teach – Enjoy
From 2023, our sister partner academy "Me Academy" offers fully comprehensive Pilates training for anyone new to Pilates teacher training, as well as continued professional development workshops and training for existing Pilates teachers holding a minimum level 3 matwork certification.
The academy also offers marketing, social media, design, branding, SEO and business support for the wellness industry and can help you through bespoke training and/or support for your needs.
Training is by arrangement and request only.
For anyone wishing to undertake Classical Pilates teacher training, we recommend you first become a student of Pilates at the studio.  We believe that to be a good teacher you first need to be a good student.
You will be expected to be able to take yourself through an intermediate matwork and reformer workout with springs, transitions and be able to demonstrate those exercise well within your body, all within one hour, before you embark on the skills to learn how to teach Pilates! This can take approximately 40-75 sessions depending on your prior knowledge and experience, as well as your commitment and how often you are doing Pilates before teacher training. Please contact us to arrange a meeting to discuss or an assessment 1:1 to see where you are at currently.
Training will be held at The Pilates Pod studio in Hitchin, Hertfordshire.
We also offer training and workshops at your venue by arrangement, providing you have the necessary suitable environment and equipment needed for the training you wish to undertake. Travel expenses are at the cost of the host.
If you would like to arrange a chat regarding training, please get in touch with Michelle.
---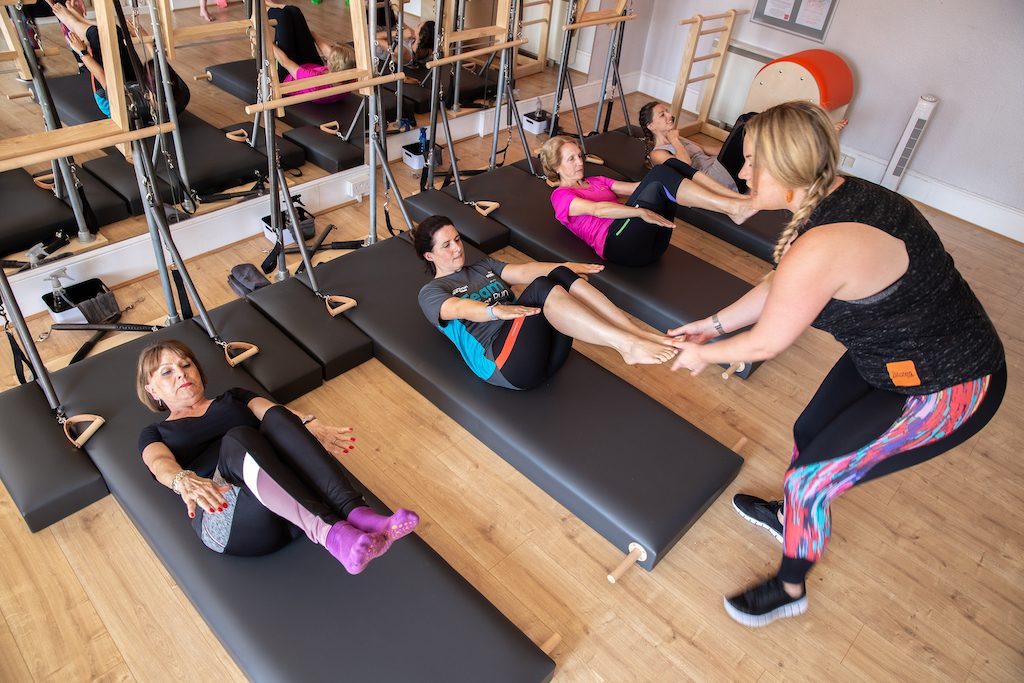 Full Comprehensive Pilates
The Pilates training is a fully Comprehensive Training Programme. It is an in-depth study of all of the classical material as developed by Joseph Pilates, on matwork and apparatus. Through a series of five modules from Pre Pilates to Beginners, Progression to Intermediate, and onto Advanced; you will explore all the exercises suitable for these "levels" and also the appropriate ways to teach, cue and progress the needs of your clients.
Pilates is not just a list of exercises so you will learn how to integrate, link, navigate and help your clients through the whole process, the whole system of Pilates. Like any good classic chocolate cake, you need to have good raw ingredients, a sound recipe for mixing and lots of practice, to ensure a good outcome!
You will undergo a thorough minimum 600 hour traineeship in which you will observe, self master, attend and practice/assist teaching. You will be pushed to stay ahead of the game so you are skilled within your body as a student of Pilates to a deeper degree than your learning to teach Pilates. Student first – teacher second!
You will tested at various stages when you have developed enough skills to demonstrate you are ready for testing. This testing is both a written and practical at each stage with the final stage having a further more advanced skill of multi level teaching.
Certification is only achieved once all stages are passed.
By the final certification,  you will be able to teach 1:1 and Duet private training, generic group classes and multi level semi private training ( a useful skill to help you maximise your studio offering)- All the way through from the client's first session up to any level. You will also have additional support training through 'trainee days' to learn skills outside of the actual exercises. Things like how to cue, working with special populations eg elderly, overweight, children etc, and working with special cases eg chronic v acute pain, injuries, pre and postnatal.  The trainee days will also give you chance to have time with any other trainees on the same journey as you.
 2024/2025 Full Comprehensive Pilates Teacher Training information is out now. Click here.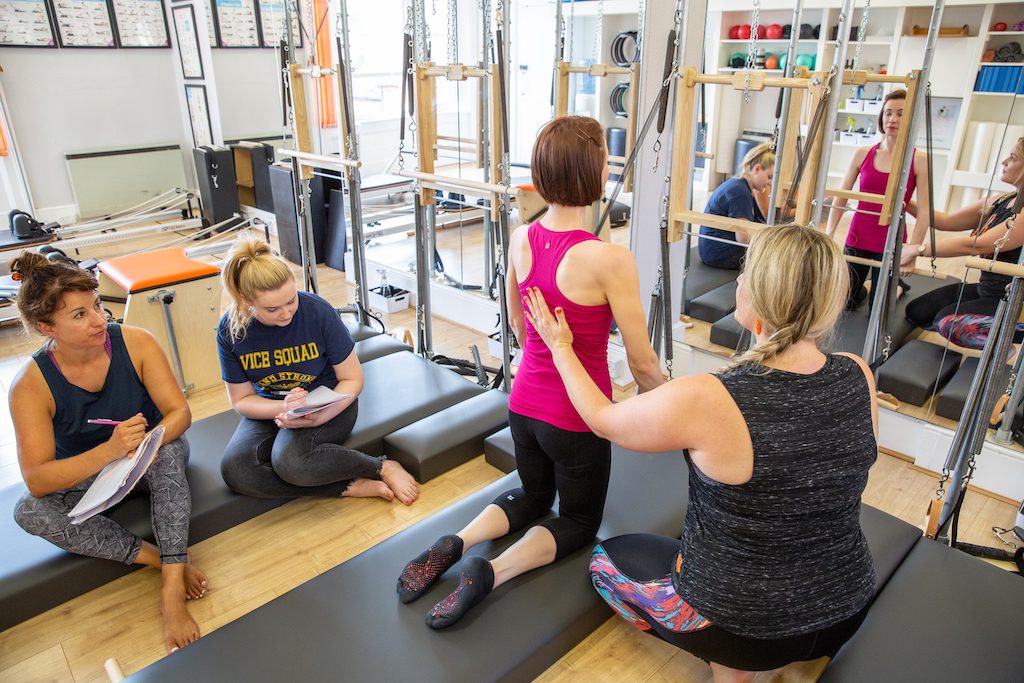 Continued Professional Development for existing Level 3 Pilates teachers
All training and workshops here is for existing Pilates teachers.
All is offered by agreement and request.
Training Courses include but are not restricted to: (Following the basics, there are other levels for each)
 Classical Matwork Basics. This is for teachers already who are looking to bridge the gap between what they teach now and what they can teach as a classical matwork teacher. It is the approach to teaching, the format guidelines for teaching and the exercises themselves

Following completion of this, there are 2 further training courses available for the Intermediate, and the Advanced Mat, in order to gain full classical matwork certification.

 
Classical Reformer Basics. This is for teachers already who are looking to bridge the gap between what they teach now and what they can teach as a classical reformer teacher. It is the approach to teaching, the format guidelines for teaching and the exercises themselves. We recommend completing classical Matwork Basics also.

Following completion of this, there are 2 further training courses available for the Intermediate, and the Advanced Mat, in order to gain full classical reformer certification.

 
Bread and Butter Basics.  This is a combination course of the classical matwork (butter) and the classical reformer (bread) to basic level. Reformer teaches us how to do good matwork. They are the bread and butter of the Pilates method.
The Chairs

– High Chair and Wunda Chair. 

The Barrels –

Ladder barrel, spine corrector, small barrel

Cadillac and Tower Basics
CPD Teacher development workshops  include but are not restricted to:
The Recipe of Pilates: Pilates is not a list of exercises, it's a recipe. One thing connects to another. One piece of apparatus helps one thing, whilst another helps something else. But how do you know where you go in the studio, what apparatus do you use and what exercises do you choose? It's about knowing the right recipes and using the right ingredients for a successful outcome. What exercises and what equipment will help your client? This workshop will answer these questions and help you to make better choices as a teacher and challenge your own progress.
Hands on not hands off!: We are movement practitioners not rehab people. We get people moving and movement heals. The easiest, quickest and most effective way to do that is through your hands. Discover the art of touch, the different ways you can invite, contain or illicit a response from your client by your touch. Learn how to touch and how not to!

 
Time to Move On: When should you introduce a new exercise and why? How do you know when your client is ready to go from basics to intermediate? What exercises out of all the intermediate ones do you start with, how long for, how can you be sure you are making good building blocks for the harder stuff? 

Available in mat only, 

Reformer only, 

Across the full system
Pre Pilates: what is it? Is it a bunch of exercises taught before the Hundred, are they stretches, does the "modern body" really need to warm up before they do the classical mat. Learn the art to knowing what pre pilates is, when and how to use it.
How to teach Pilates TFCQ: We're often taught lists of Pilates exercises but we're not often taught HOW to teach them. Unlock the secrets to some successful techniques and frameworks that Bob Liekens helped teachers use, this workshop will help you teach with much more clarity, many less words, less unnecessary and flowery language, less confusion to your clients, and much more proven success! You just need to know your Pilates TFCQ! This is recommended as an excellent way to help all teachers from other teaching backgrounds to establish a clear concise classical way to teach.
Put your foot in it: We'll look in depth at the Foot and its importance in achieving and maintaining strong Pilates technique. This workshop is designed to give you practical tools to help you understand the foot and its relationship to the pelvis, diaphragm, and how it fits into the Pilates system. We will explore, the Foot Corrector, Toe Corrector and of course Footwork, to help you make fundamental changes to the way your clients walk, move and solve problems elsewhere in their body.
The Small stuff: the little bits we often overlook in the studio. The breathocizer, Neck stretcher, Weighted pole, Sandbag, Airplane board. Little apparatus that have big transformational effects and can easily be added into your practice and your clients programme for inexpensive cost to you as a studio owner/teacher.
Jump Board. Most people think Jump Boards are a modern take on the traditional Pilates but actually they we way before it featured in a Pilates studio. Feel weightless, dance through the air, correct your basic movement pattern and propulsion for walking, running and jumping, help everyone from rehab foot clients to gymnasts, dancers, athletes and astronauts! And have a sweaty, heart pumping, cardio stamina, fat burning, load of fun at the same time!
That's Magic! Often used incorrectly as a thigh master, learn what the magic circle is actually for, when to use it, learn about the mini magic circle, and discover the long lost magic of the Magic Circle exercises as stand alone exercises to help everything from ab connection and correction, foot arches, spinal decompression, glute help, breathwork and more.
Teaching Special Populations:

We'll look at how you can best work with clients who require special attention and help. From elderly, overweight, children, pre and postnatal- across matwork and apparatus.

 

Teaching injuries and Special Cases: We'll dive into how to adapt the Pilates system when working with those who are special cases and require specialist 1:1 help within a studio setting but how you can make adaptions to your own setting. From b

ack issues, 

Neck and shoulder, 

Hips.