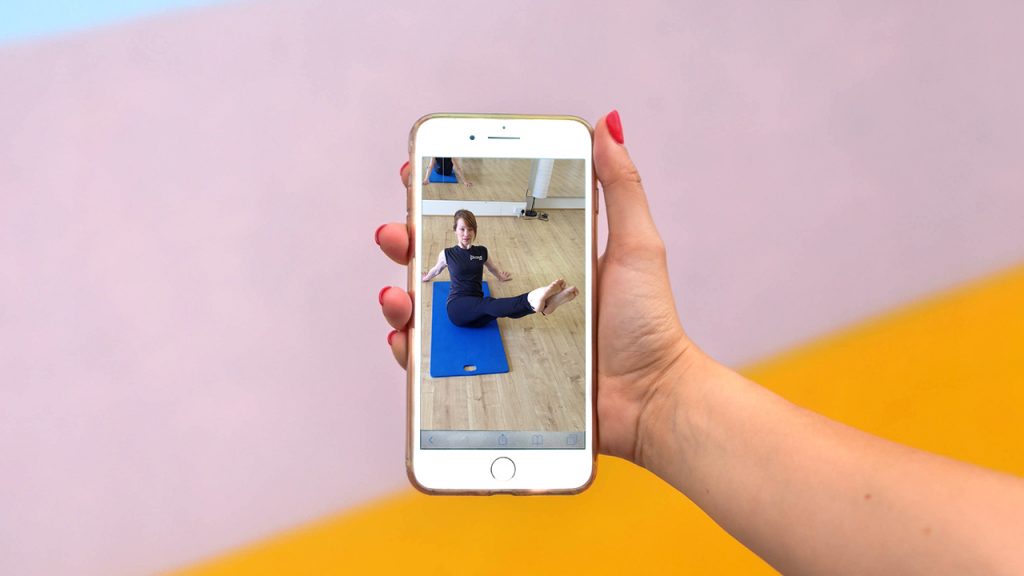 How do I book into an online virtual Pilates class?
Book into your online class. You can do this via your web account (click on new client button on the homepage to login) or use The Pilates Pod app for a quick and easy way to manage your account.

You will receive an email booking confirmation.
How do I join in the class on the day?
There are 3 ways you can access your online class. Via The Pilates Pod app, via your web account, or by email.
1. Login via your web account (Chrome is the recommended browser)
Go to our website- click on Client Login. Enter your email address and password you used to register your account. Help info.
Go to your dashboard. Click on the "Access live" button and you will be re-directed on ZOOM.
Please note: you will need to have a zoom account set up first and we recommend you login before you click on access live for the smoothest re-direction.
2. Via email. Thanks to the Zoom Integration within our booking software (BSport), you will be sent a Zoom link automatically via email 15 minutes before the class. Click directly on this link to join.
3. Via The Pilates Pod app.
Open the app. Click 'My bookings'. Then click 'Access live' to access the live class.
Important notice
Ensure your account is opted in to receive account management, reminders and schedule changes, and opted in to receive email news. Without these steps you may not be sent any booking confirmations or links.
2. Complete an online waiver ( click here)
3. Sign up for a free Zoom account.
4. Ensure you white list the email address hello@thepilatespod.co.uk (to ensure they get through your security firewalls) White listing is adding email addresses to your safe senders list. More info here on how to do this.
If you are still not receive emails from us, and you have checked your junk filters, please email us to arrange an alternative email address.
Pricing, Class Times and Class Levels
Please check our dedicated virtual class page here.
What do I need for the classes?
It is not necessary to have props for the Mat classes however it can be useful for some. Bring along any hand weights, Pilates circles, flexi bands. But don't worry, you can use cans of beans/ water bottles, a cushion, and a dressing gown rope/ hand towel.
For the Mat & Fascia Work class, you will need to bring along any of the following- tennis balls/dog ball/fascia ball, foam roller, small soft Pilates ball (approx 9 inches)
You will need a mat or ensure your floor is well cushioned.
Buy your Pilates equipment for home here.
Injuries and Group Classes
If you are living with a serious physical issue or injury or require more support and attention, we strongly suggest you start with private sessions as group classes are not the best place to address.
Taking care of your own body
Not all exercises are suitable for everyone. Pilates in group classes is a workout and whilst there are options for modifications/variations, we do not give individual corrections. Therefore it's important you know how to modify or which ones to leave out. You can do this through a proper introduction via a 1:1 online. If group classes are not suitable, you can continue with 1:1.
In the Studio with private training, we have thousands of exercises and many pieces of apparatus to choose from to give you hundreds of options that work for you, rather than thinking of leaving things out. Because we are all Classically Fully Comprehensively qualified, our training allows us this knowledge and experience, plus a whole studio of apparatus and thousands of exercises, which opens up a wealth of exercises to choose from.
Matwork is about 7% of the whole Pilates system. Some exercises can be modified , for example if the exercise is round and your modification means you need to work with a flat back, modify it to a flat back if you can. BUT if this isn't feasible within the exercise or the exercise looks wildly different to it's intention, then LEAVE IT OUT!
We recommend you follow our general guideline protocols for acute or painful issue. Old, chronic issues that cause no pain or undiagnosed issues causing you pain can often be a result of weak muscles, imbalance, poor body mechanics, pelvic instability and poor posture so we would encourage you to work the body fully.
Taking classes online is not a replacement for studio teaching with apparatus or working with a teacher in person. We always advise you take 1:1 online sessions if you want specific help for you. Classes are for general level and fitness.
Bad lower backs– Keep the back flat! no rounding, no extension, no twisting. If diagnosed disc issues, also no seated work. Keep knees bent not straight, Don't do planks. Avoid inversions. Keep legs close to chest not far away ie legs into chest rather than tabletop or extended. Do lift the head and chest, it allows the back to drop safer into the mat. If you have a diagnosed back disc issue that is still causing you issue, we will be taking care of that within the studio in 1:1's. Your back care plan will have removed all seated work, twisting, bending, side bending and extension. We then work your body from a flat neutral position and build strength and stability before adding in one movement plane at a time that adds load to the spine progressively. If you know where you are at with this, you can add those movements in. If you know the exercise 10-10-10, Otherwise, we really do suggest you should be doing 1:1's online.
Sciatica– See bad backs protocol as this comes from your lower back disc compressing the sciatic nerve. If the pain radiates down the leg, also avoid stretching the leg, keep it moving!
Bad necks– head down, neck relaxed on a small rolled up towel. Avoid arching the back of neck or lifting head, or twisting neck. Avoid rolling exercises, inversions upside down. Also see Bad Shoulders protocol as often the neck and shoulders are twinned.
Bad Shoulders– keep arms moving only up down but avoid circles. Lift arms to 90 degrees shoulder height only. Keeps arms in to the side ie avoid elbows wide. Avoid too much weight bearing. Also see Bad Necks, and often the neck and shoulders are twinned.
Bad Knees– avoid pulling on the knees, use your hands behind the knees instead. Work in parallel legs not Pilates stance or internal rotation. Limit your range so knees are not in flexion past 90 degrees. Avoid kneeling or use pads. If you have ACL surgery then also leave out Squats.
Bad Hips– Flexion is good but may be limited to 90 degrees. If recent hip replacement, take extra care here to introduce this. Work in parallel not Pilates stance or internal rotation. Avoid crossing the midline for exercises like one leg circles.
See you online soon!