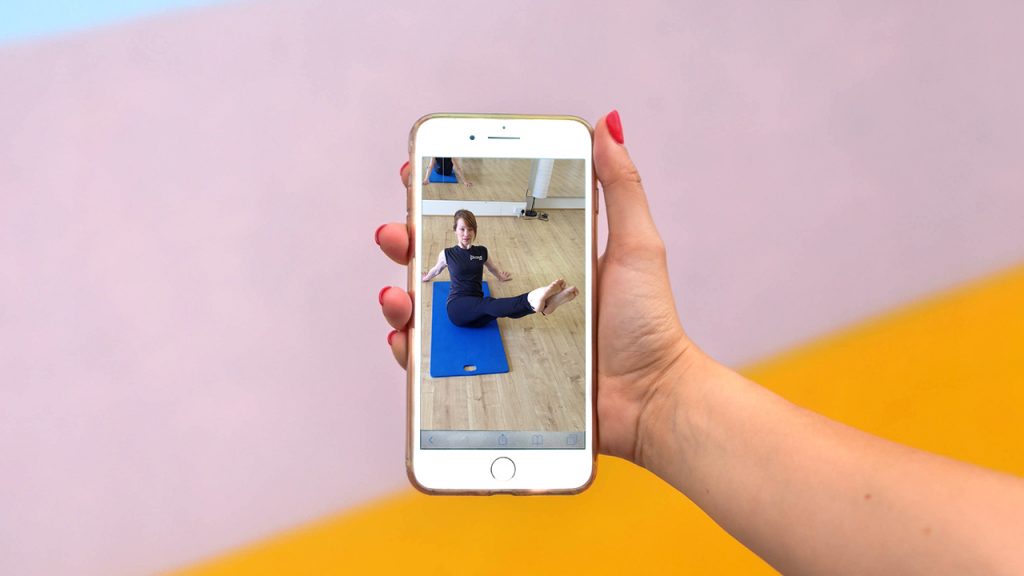 5 STEPS TO GET ONLINE SUCCESS
Before signing up for an online class, please follow the below steps CAREFULLY to ensure that you are signed up to receive booking confirmation emails. These emails are auto generated and sent to you after booking a class and contain the link and password to join the livestream:
1. On our website homepage click 'CLIENT LOGIN' button or 'NEW CLIENT' to SIGN IN/SIGN UP (right top corner on the website)
2. Go to your profile, click on 'CLIENT INFO' and scroll down to 'CONTACT'
-CHECK the boxes for EMAIL SUBSCRIPTION under:
ACCOUNT MANAGEMENT : Subscribe to reminders and notifications
REMINDERS AND SCHEDULE CHANGES : A heads up for reminders or when the schedule changes.
Optional- NEWS AND PROMOS: if you wish to be kept up to date first with our wellness newsletters, tips and offers.
3. Complete an online waiver ( click here)
4. Sign up for a free Zoom account.
5. Ensure you white list the email addresses @mindbodyonline.com and hello@thepilatespod.co.uk (to ensure they get through your security firewalls) (https://downtimemonkey.com/blog/how-to-whitelist-an-email-address-in-gmail.php)
VIRTUAL PRICING
UNLIMITED VIRTUAL MEMBERSHIP. £58 MONTHLY. First month £50. Plus free access to members video library. Min 3 months commitment.
VIRTUAL MEMBERSHIP £50 MONTHLY – up to 5 virtual classes every 'payment' month plus free access to members video library.
VIRTUAL 5 CLASS PACK £55– Valid for 1 month from your first visit.
VIRTUAL DROP IN / SINGLE CLASS £12 – Valid for 1 month from date of purchase.
VIRTUAL 55 MINUTE 1:1 £58 / 30 mins £35 – Valid for 14 days from date of purchase. You can also purchase personal training credits in packs of 5 or 10. Please make sure you email us after booking this to set up a Zoom link. hello@thepilatespod.co.uk
NB: Virtual pricing cannot be used on studio sessions, cannot be refunded or transferred. Online classes will be 45 mins and are not suitable for anyone with pain, injuries or pregnancy without having worked with us first 1:1. Please email us for a consultation to check before starting. Remember online classes never replace working with a teacher in person. Classical Pilates is a workout, not rehab.
VIRTUAL CLASS DESCRIPTIONS
Please check timetable for up to date information.
We will offering general guidance, modifications and progressions as we go through the class workouts but not individual corrections and specific issue modifications that you get from 1:1.
Beginners Matwork:
These are Foundation/ Intro level classes. A good place to begin with us. We'll show you how to connect to your powerhouse, find your centre, some basic key concepts of Pilates and introduce you to the full Intro Pilates Mat repertoire over time. Great for gaining stability, strength and control.
General Level Matwork:
These are Core /Progression general level classes: These classes are fun workouts, using your own body weight and gravity, as Pilates was intended. Following the Classical exercises and orders with fluidity and transitions. We will develop the strength and stability from the Beginners Classes and incorporate the challenges of stretch and stamina. A mixed bag approach for whatever you need on the day, or whatever the teacher likes to throw at you!
Matwork with Band/Resistance Pilates:
These are Core /Progression general level classes: Perfect for re-creating that studio apparatus feeling but from home. We'll use the resistance band, a common fitness staple, to help your home mat workout with both support and resistance challenge.
Intermediate Flow:
These are a Deeper Dive Core/Progression level class. For those who know the exercises, are without injury or know how to manage their bodies. It's not advanced work but we like to flow with the transitions of Pilates to link one exercise to the next. A good strong workout that will put some heat in your face and get your stamina up. Please do not attend these classes if you have injuries, recovering from operations, or are not able to hold two legs up and out straight on a diagonal.
Stretch & Fascia Release with Matwork:
Suitable for all. In these classes, you will need props but you work with what you have at home. – see Props section below.
This class incorporates techniques to release the fascia (like a connective spiders web around your body) which may be holding you in tension. Think of it like a self deep tissue massage for the feet, leg, hips, abs, back etc. We'll work on some basic stretches that help facilitate the Pilates exercises, some mobility Pre Pilates, as well as the stretch aspect of the Classical Pilates exercises themselves.
PROPS FOR CLASSES
It is not necessary to have props for the Mat classes however it can be useful for some. If you have some cans of beans or hand weights, plus a flexi band or towel for stretching, bring them along. If you have magic circles, all the better- nothing is essential, just your bodyweight and a mat.
You will need props for the Stretch & Fascia Release. Bring any along as we can make them work, including: Rollers, bands, balls (of any kind like tennis ball/dog ball/fascia ball) towel, block or thick book, hand weights or cans of beans/water bottles, a foam roller or a couple of rolled up long towels or a rolled up yoga mat. We will make it all work and adapt!
For the Resistance Pilates class you need resistance! So make sure you have a band!
TAKING CARE OF YOUR OWN BODY
Not all exercises are suitable for everyone. Pilates in group classes is a workout and whilst there are options for modifications/variations, we do not give individual corrections. Therefore it's important you know how to modify or which ones to leave out. You can do this through a proper introduction via a 1:1 online. If group classes are not suitable, you can continue with 1:1.
In the Studio with 1:1 or semi private apparatus classes, we have thousands of exercises and many pieces of apparatus to choose from to give you hundreds of options that work for you, rather than thinking of leaving things out. Because we are all Classically Fully Comprehensively qualified, our training allows us this knowledge and experience, plus a whole studio of apparatus and thousands of exercises, which opens up a wealth of exercises to choose from.
Matwork is about 7% of the whole Pilates system. Some exercises can be modified , for example if the exercise is round and your modification means you need to work with a flat back, modify it to a flat back if you can. BUT if this isn't feasible within the exercise or the exercise looks wildly different to it's intention, then LEAVE IT OUT!
We recommend you follow our general guideline protocols for acute or painful issue. Old, chronic issues that cause no pain or undiagnosed issues causing you pain can often be a result of weak muscles, imbalance, poor body mechanics, pelvic instability and poor posture so we would encourage you to work the body fully.
Taking classes online is not a replacement for studio teaching with apparatus or working with a teacher in person. We always advise you take 1:1 online sessions if you want specific help for you. Classes are for general level and fitness.
Bad lower backs– Keep the back flat! no rounding, no extension, no twisting. If diagnosed disc issues, also no seated work. Keep knees bent not straight, Don't do planks. Avoid inversions. Keep legs close to chest not far away ie legs into chest rather than tabletop or extended. Do lift the head and chest, it allows the back to drop safer into the mat. If you have a diagnosed back disc issue that is still causing you issue, we will be taking care of that within the studio in 1:1's. Your back care plan will have removed all seated work, twisting, bending, side bending and extension. We then work your body from a flat neutral position and build strength and stability before adding in one movement plane at a time that adds load to the spine progressively. If you know where you are at with this, you can add those movements in. If you know the exercise 10-10-10, Otherwise, we really do suggest you should be doing 1:1's online.
Sciatica– See bad backs protocol as this comes from your lower back disc compressing the sciatic nerve. If the pain radiates down the leg, also avoid stretching the leg, keep it moving!
Bad necks– head down, neck relaxed on a small rolled up towel. Avoid arching the back of neck or lifting head, or twisting neck. Avoid rolling exercises, inversions upside down. Also see Bad Shoulders protocol as often the neck and shoulders are twinned.
Bad Shoulders– keep arms moving only up down but avoid circles. Lift arms to 90 degrees shoulder height only. Keeps arms in to the side ie avoid elbows wide. Avoid too much weight bearing. Also see Bad Necks, and often the neck and shoulders are twinned.
Bad Knees– avoid pulling on the knees, use your hands behind the knees instead. Work in parallel legs not Pilates stance or internal rotation. Limit your range so knees are not in flexion past 90 degrees. Avoid kneeling or use pads. If you have ACL surgery then also leave out Squats.
Bad Hips– Flexion is good but may be limited to 90 degrees. If recent hip replacement, take extra care here to introduce this. Work in parallel not Pilates stance or internal rotation. Avoid crossing the midline for exercises like one leg circles.
See you online soon!