OUR PILATES IS DIFFERENT. HERE'S HOW…
Pilates is a physical training method which was invented by Joseph Pilates in the early 1900s. In turn he passed on the method to people he trusted and they learnt directly from him. It is this form of traditional  Pilates that we teach here at The Pilates Pod.
We don't do Dynamic Reformer, Hybrid Yogalates, or any other fad or fashion that is based upon Pilates and is more of fitness approach.
We take your health, safety and wellbeing seriously and we only offer the authentic Pilates method approach with small sizes.
You can read more about Pilates by clicking here.
If you're new to Pilates, or to The Pilates Pod click here to find out about our New Client Intro Bundles
OUR GROUP ACTIVITIES ARE DIFFERENT. HERE'S HOW…
It's no secret, individual coaching provides a completely unique and tailored approach with full focus and private attention you may need or want. That's why we always advise anyone with pain, injuries or long standing conditions that require more attention work in a 1:1 setting.
We also recommend where possible that you may like to start your journey with some 1:1's first to get the very best personalised approach and learn your own specific modifications that you may need to know as you continue on to group activities
But, what if you could get the same high-quality coaching, with personalisation and dedicated individual focus time but with the added motivation of a fun class dynamic?
Welcome to Pilates Small-Group Personal Training (SGPT): the best of both worlds and the core of what our Pilates programme is built upon.
Our Small-Group Personal Training offers you:
>Small group sizes – in a world where it's commonplace to have anywhere between 15-30 people in a group, our sessions have a max of 8 in the studio.
> Regular group sessions usually only access part of the system ie Mat or Reformer, but our Small-Group Personal Training session allow you access to all of Pilates method which is normally reserved for private training.
>Every session is unique and different, depending on what the attendees' needs and abilities are. It's a full mind-body method so we take into consideration what your mind and body tells you that it needs and we pick n mix what to play with.
> Fun group atmosphere and motivation from your other Podders to cheer you on, inspire you, and have fun with.
>A more affordable way to work your body and explore the Pilates method. We recommend attending the studio 2-3 times a week with the ability to practice the matwork system free at home anytime, via our You Tube channel.
We also run Group Matwork Classes – both online and in the studio. You can check this information here.
Pilates Small Group Personal Training Sessions
The group timetabled sessions we run in the studio are for 3-8 people.
We have a Foundational Level – Wednesdays 7pm & Mondays 9.30am for you to get started with the foundational level of Pilates from key concepts, exercise choices, apparatus and matwork and to bed in those solid foundations. We recommend these for anyone starting out with us aswell as any Foundational or Open Level Mat Class, or our often quieter Saturday 10am Open Level Group session.
Then all the other groups are offered 7 days a week for Open Levels for your to explore your Pilates journey!
No two bodies are the same, we have different needs. Therefore our Pilates group sessions aren't the same either. We don't run standard Pilates classes.
In our Small Group Personal Training, we explore the fuller Pilates method by selecting different exercises, props, apparatus (and other modalities if necessary) that you use on any given day.
Consideration will also be made as to how many people show up, what level individuals are at, your goals, and what your body and mind needs.
There are literally thousands of exercises in the Pilates method, so we'll have fun exploring how to do these and the variations within that make group sessions fun and motivating.
Although this is not Private Training, it is tailored and unique so no group session is ever the same!
All we ask is that you come with an open heart and an explorative mind, share how you feel both in body and mind and we'll take care of the rest!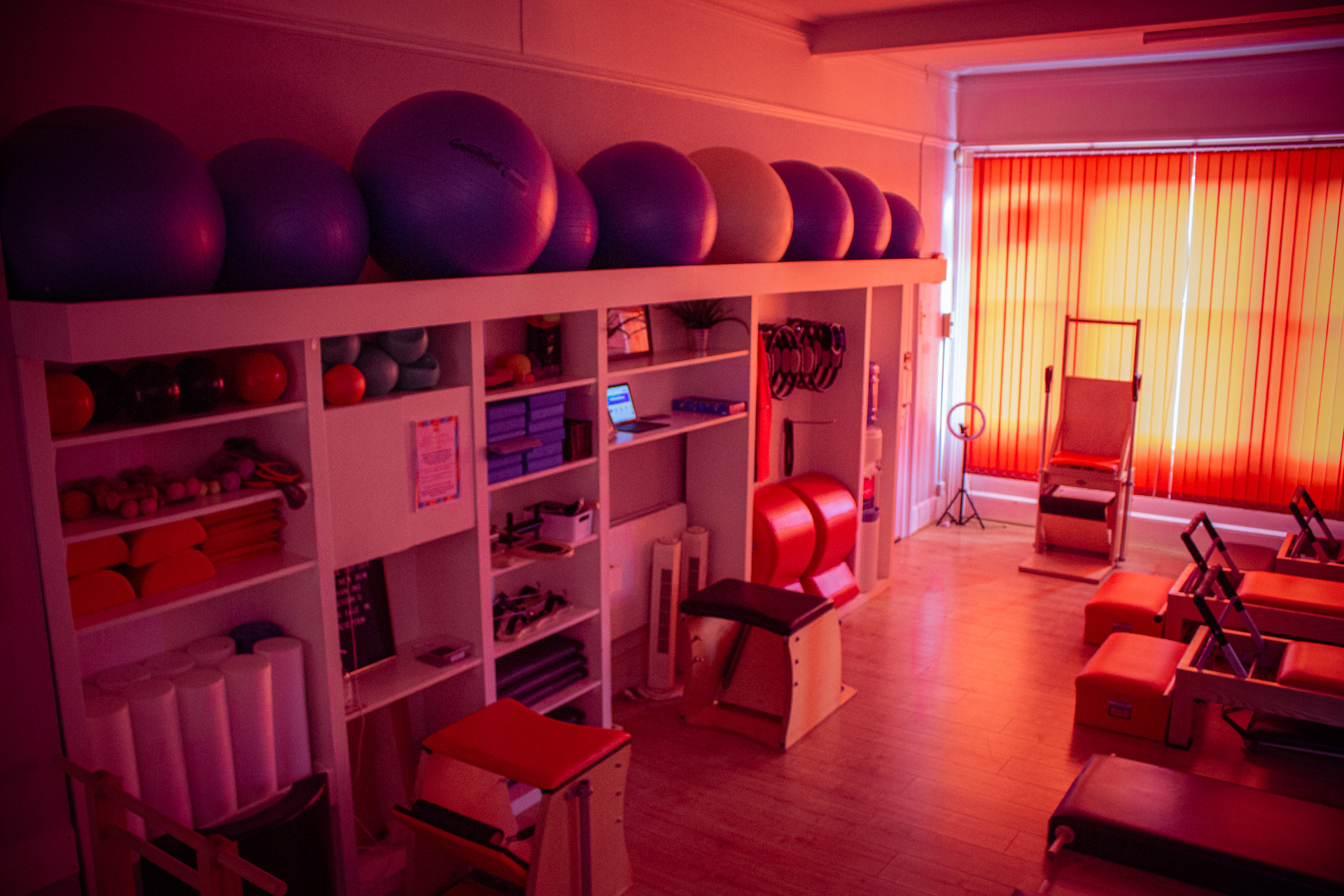 WHAT YOU MIGHT USE IN A CLASS
We have an entire studio full of apparatus, big and small. We know you'll love experiencing and exploring a lot more of what Pilates has to offer.
You could be doing exercises on the Mat, Tower/Wall-units, Cadillac, Wunda Chairs, High Chair, Reformers, Small Barrels, and Spine Correctors. You could use toe gizmos, magic circles, hand weights, weighted bars, and hand towels.
You could be add in the wall work, standing series, seated Pilates or even some archival Joe Pilates stuff. You may even be using non-traditional Pilates props such as fascia balls, tennis balls, rollers, fit balls and flexi- bands if they are useful tools.
Injuries and Group Classes – Please note
If you are living with a serious physical issue or injury or require more support and attention, we strongly suggest you start with private training sessions as group classes are not the best place to address these.
PACKS
You can buy a pack of 5 or 10 classes.
MEMBERSHIPS
Choose from 4, 6 or 8 classes per month