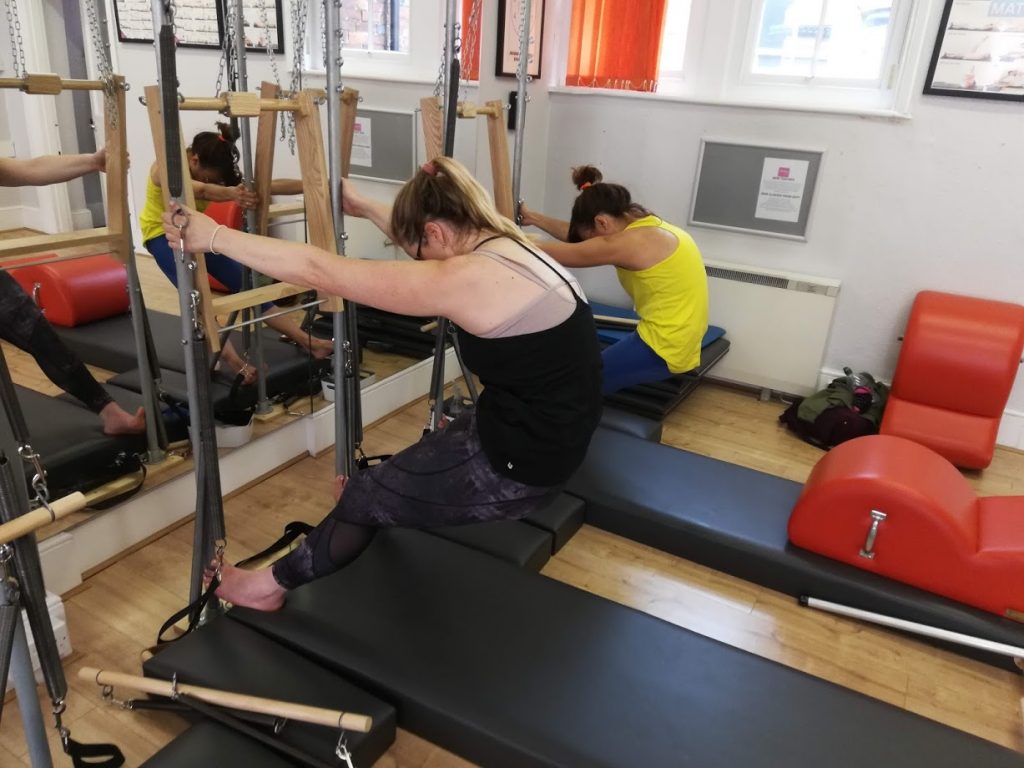 Welcome back to the studio from April!
We're delighted to have our doors open and welcome you in to the wonderful world of the classical apparatus. (I bet you've missed it!) The studio is open from 12th April for private training only. We cannot wait to help you move your bodies again.
The NEW class timetable (from 17th May) is now online for you to book in. 3 group classes to enjoy:
Tower Class– focusing around the Tower/Wall Unit, you'll work on your overall wellbeing, strength, stability & stretch. Building over time. You'll also benefit from matwork, small barrel, magic circle & toe correctors in these classes. An easy piece of apparatus to jump on and go, and a good place to start in your group class Pilates journey.
Barrels Class*– focusing around the small barrel, spine corrector and ladder barrel, deeper stretch, expansion and opening of the chest, hips & back is the aim of these classes. Strength & control addressed with smaller base support workouts. Perfect for those wanting to develop their practice and their body, and a great antidote to rounded upper back posture and desk work!
*Please note Barrels Class is not suitable if you're new to Pilates or you have a weak back/abdominal control.
Reformer & Mat Class– the bread and butter of Pilates! Reformer and Mat have a distinct order to the exercises, with transitions to link them together. In this class, you'll learn and work on your intro level of each, to grasp the real authentic experience of Pilates. If you want to further your practice and move into our Shared Semi Private training and grasp the full experience of Pilates, you will want to be a regular on this class! Come away from these classes more self aware & ready for independent practice.
We also have Matwork classes:-
Virtual Mat Classes– we are embracing our new hybrid world. After 17th May, our group class timetable changes to our new In Person Studio Apparatus Classes plus a new timetable of Live Virtual Mat Classes. Expect the same great teachers doing Classical Pilates in our new:
Dedicated Beginners Virtual Class, General Level Mat, Intermediate Mat, Stretch & Fascia Release, Flexi Band Resistance Class.
Live Stream Studio Mat Classes– 3 weekly classes will also be available in the studio with us whilst also being live streamed out to our friends who want to join us virtually. The same great class but in the comfort of our studio with our mats and small props so no need to bring anything!
Plus we are bringing you Shared Semi Private Training 1:4 –
These are not classes but semi led more independent training- the pinnacle of Pilates! A smaller group of up to 4 people sharing an individual private training experience that's more fun and cheaper than 1:1. You will have access to the full Pilates studio of all apparatus. You will work out and develop your practice on the Reformer and Mat exercises, then move on. Either you can either decide where you want to go next, or with the help of your teacher who will use their skills, knowledge and time to really focus their eyes on what YOU need on that day. Use the apparatus and exercises around the studio in order to help you achieve your goals and get better at the Reformer, and ultimately the Mat (the goal of it all!) You will need to come to the session with an understanding of the intro mat and reformer order, in order to progress. This is the ultimate goal for anyone doing a Pilates practice who wants to really become more independent, get on and change their body and mind. (Min 5 x 1:1 sessions or 15 group classes and a knowledge of minimum intro Mat and Reformer order is required in order to attend.)
There are a few other changes and things you need to know.
The current and old timetable will be gone, and a new timetable up from 17th May. You WILL NEED TO BOOK IN!
Please arrive no more than 5 minutes before your appointment. (some people last time were still arriving 15-20 mins early!) Buzz in from outside as normal, and following social distancing until we let you in. We may not answer the door if you are too early for your own safeguarding to limit contact with others so please check your watch before you buzz!
Toilets are limited to one in one out. Please ensure you switch off the lights as you leave.
A mask must be worn when in the building, reception and into the studio. It will be removed as you begin to workout and should be placed upon your persons (we recommend tucked inside your top or trousers. You will mask up again as you move apparatus. This is a legal requirement as of 31/7/20 to wear one in close proximity in shared areas. The World Health Organisation do not recommend face masks are worn while exercising because it could reduce the ability to breathe comfortably, However, it's everyone's own choice to decide if they want to wear a mask while exercising. If you need to wear a mask for health reasons, you should not be in the studio and we advise you to do online classes.
Please respect social distancing inside the building as the building in co-shared with other businesses.
Please do not wear zips and jewellery that can scratch our apparatus.
We recommend you bring your own pre filled water bottle. Water is still available. No other items can be brought into the studio.
Post Covid19 lockdown, we are are still socially distancing, so all group classes will be reduced from 7 people to 4. .
You will put your things in a locker that you find outside the reception door to ensure a socially distanced one direction flow. Please lock your things and bring in the key, we do not take any responsibility for your personal items and do not have replacement keys. Please arrive for your session ready in your workout gear where possible and with a water bottle pre filled. Limit all other items. All personal belongings must fit into a locker. Please do not bring items into reception or studio except a water bottle. No items should be left outside that do not fit into a locker.
We ask that you please wash your hands thoroughly or use the sanitizing gel located on the wall up the stairs and also outside our room, before you enter our reception.
Please no more than 2 people in the reception area at any time.
Please do not sit at the reception desk and respect social distancing towards our staff.
Clean socks must be worn at all times. We recommend purchasing our one size grip socks.
Come into the studio and move to the furthest piece of apparatus first. (those that have difficulty getting to the floor, should use the Cadillac and enter first) When you leave, you will leave from the back door and go to collect your things in the lockers. Please note you wear your mask in the building and into studio until begin exercising, then keep your mask in your pocket/inside your top. Please do not leave them on the floor. If you move around the studio, you will need to mask up first, and please mask as you leave. You are not advised to exercise in a mask.
Teachers will have a mask upon them but will not be wearing masks to teach in unless we need to step in for your safety.
We remain 2m socially distanced and at present, we are still 'hands off' teaching to help maintain social distancing policies, so you must be able to handle apparatus yourself.
Windows will be open throughout the session for advisable ventilation.
We are a nut free zone due to Michelle's severe nut allergy. Please ensure you do not bring any nuts into the studio, and always wash your hands if you have been in contact with nuts.
Classes are 45 minutes, allowing time for post class cleaning, ventilation and limiting contact with others arriving or leaving.
Please do not attend if you are feeling unwell but cancel by logging into the website or app.
All apparatus will be cleaned down by clients after each use using Super Sani Cloths, as well as the locker and key post exit after the session. Staff will then further clean the studio and the high contact areas. Another deep clean will be done regularly by a cleaning company.
Please note there is still limited reception based at the studio, so continue to use our email over phone if you need us hello@thepilatespod.co.uk
A reminder that all virtual sessions will have an auto confirmation with class link when you book. If you do not get this, please check you have followed our advice steps here. Reception can forward you the link on request but please note they may not be working at that time, so we do advise you to follow our link to ensure the steps are taken in advance!
For all bookings, cancellation, changes or purchases, please do use the Mind Body software via our website or app to manage your own account. We would be happy to help show you if you need help and training.
Those on memberships can pre book their classes up to 12 months in advance so book away! Just please remember you must cancel yourself in advance.
There are no months with 5 weeks or 35 days, but sometimes your fav class day may have more in one month than another. Your membership may have 4 / 8 or 12 classes per month and it is up to you to check the dates you have booked in. You are welcome to pay additionally for a drop in class if you do wish to come to an extra session.
To keep you and our team safe you must agree to the following points before you can enter the studio. If your personal situation changes one week, if you feel unwell, please change to an online class.
Please copy and paste the 5 points below and email it to us to confirm your acceptance and liability waiver. You will not be able to attend the studio unless you have done so.
I am able to manage my own body safely and operate the apparatus unaided with control.
If you have mobility issues, neurological or strength/stability issues that mean you need our help getting on or off the apparatus for some exercises, you will need to participate in online classes. If there are 1 or 2 exercises you struggle with without our help but you can manage your body safety and the apparatus control otherwise, please just leave those exercises out.
I am not at high or moderate risk from Coronavirus (COVID-19) or shielding
Please refer to the NHS guidelines to check if this applies to you: https://www.nhs.uk/conditions/coronavirus-covid-19/people-at-higher-risk/whos-at-higher-risk-from-coronavirus/
I am in good health and am not currently showing any symptoms of COVID-19. To the best of my knowledge, I have not been in close contact with others diagnosed with COVID-19 and I have not recently been contacted through NHS Test and Trace.
If any of these are a 'yes' please make sure you have read and complied with the NHS guidelines and cancel your sessions at the studio. https://www.nhs.uk/conditions/coronavirus-covid-19/testing-and-tracing/nhs-test-and-trace-if-youve-been-in-contact-with-a-person-who-has-coronavirus/
I have not visited any country inside the last 14 days that require self isolation on return.
I agree that The Pilates Pod Ltd have taken all reasonable steps to implement strict social distancing and sterilisation measures to protect the public and members of staff against the risk of infection from COVID-19. I understand that I am attending the studio at my own risk and that The Pilates Pod Ltd accept no responsibility in the event of any client unfortunately contracting COVID-19 having attended The Pilates Pod. I will wear a face covering when entering the building and into the reception, but I can remove it to enter the studio for exercise.
OUR REQUEST TO YOU
Our studio is still significantly impacted by COVID-19, our capacity is still reduced per class and across the week, our overheads have increased and we are also trying to accommodate all our clients attendance, both virtual and studio classes plus 1:1's. We thank you for staying with us, for supporting us and I hope you feel supported by us. We are so grateful to our wonderful Pod Squad!
Could we please ask that you do show up for your sessions, do use the new timetable of classes both virtual and studio, use the software yourself to manage your accounts and be mindful that if classes have not got enough people in them, we may have to cancel or move you at short notice. We thank you for your understanding.
See can't wait to see you soon!
Michelle, Ed, Clair, Rufina, Dawn, Ellen, Gen and Bron x