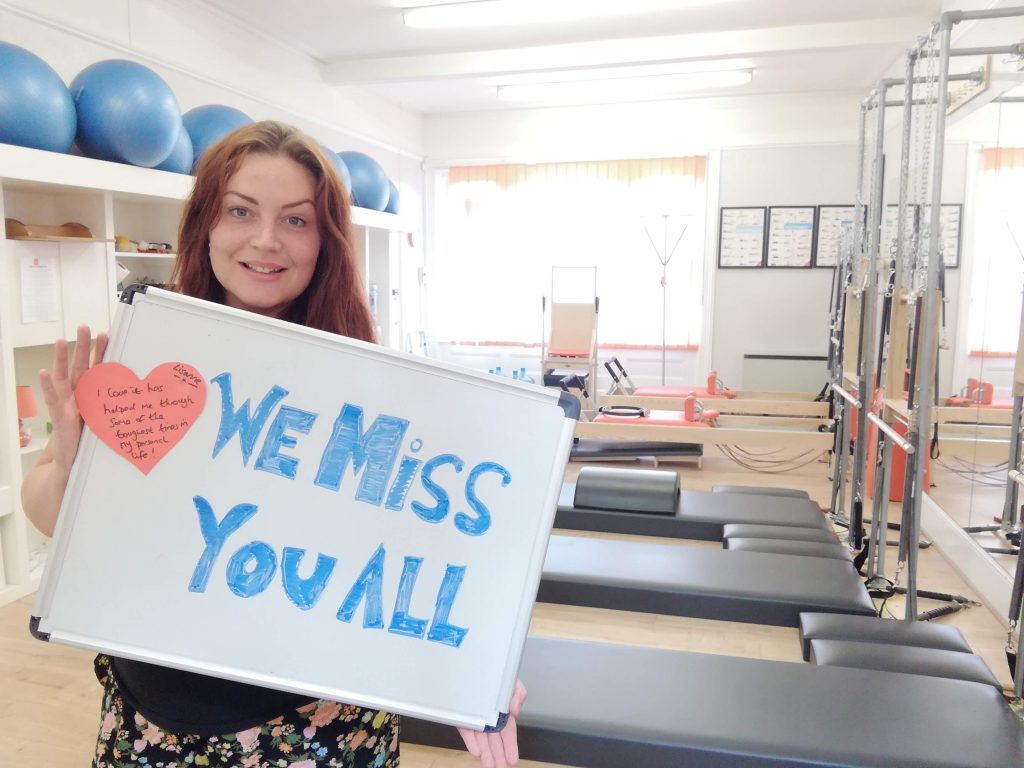 Yeah- our industry has been given the 'green light' to open up again after 25th July!
Whilst we work on the plans for reopening, how and when exactly. we thought you may like to see our thoughts.
This will not be "open the doors and let's go" just yet! We do ask that clients are patient with us whilst we work through the complex details on timetable planning, a reduced capacity of spaces available, plus the challenge of Summer Holidays on our teachers that have school age children.
The studio has been fully cleaned and sterilized.
We've re-organised the layout for 2m social distancing between our '4 stations.'
We're written our protocols and procedures if you want to come into our environment.
We're talking to our team who are still juggling teaching, financial issues plus home schooling and family life.
We're working on a timetable to allow for virtual group classes to continue, virtual 1:1's, and studio 1:1's- moving later to also include a minor capacity offering for studio small classes. All with extra time needed to do extra cleaning between sessions and allowing time for environment changes between virtual and in-studio sessions. Please bare with us, it's very complex!
We plan to open when allowed with PHASE 1 – 1:1's and Duets only. This will be only for those with PT Memberships and PT Credit Packs. We will also have a few limited spaces for anyone who may have 1:1 Gift Vouchers or wishes to use the apparatus by purchasing a Return to Studio Offer of 3 x 1:1's £130 – these have to used with a 2-3 week expiry and only within the available spaces we have. During Phase 1- all classes will continue online and for any 1:1's who are high risk, shielding, do not wish to return just yet or recently had symptoms of Covid19 for yourself or in your family . EMAIL US NOW TO LET US KNOW IF YOU DO OR DO NOT WANT TO BE IN THE STUDIO!
PHASE 2- Small Group Classes.   When we re-introduce our classes, it will only be 4 person Class using one station so there will not be any sharing of apparatus or moving around like Studio Work Classes.
We are planning to launch our Tower/Barrels Classes, Reformer/Tower Classes, and Reformer/Wunda Chair Classes (now we have two Wunda chairs) 
Virtual Mat Classes will continue online.
Only 1:1's can use more apparatus during their session as we can clean down as we go and there is no sharing.
Some heads up things to be aware of:
We will be opening reduced hours, there will be limited availability, there will be reduced numbers in classes, there will not be all the apparatus available. We cannot please everyone and we are doing our best. We please ask respectfully that you be patient. Behind the scenes, Michelle and Ed are working 16 hour days to keep plates spinning, our teachers are maxed out and juggling home lives and Bron is mixing admin, furlough part time and children. It's all a bit crazy and sometimes balls do get dropped, we are only human!
Since we cannot see the same number of people as we did before or offer multiple classes at once, there will not be as many spaces available. We are down 1 teacher during Summer as Clair doesn't work, and we have man considerations to juggle. For fairness, we may have to introduce offering people to attend studio classes once a fortnight whilst mixing in the virtual matwork too, to allow as many people as possible to get a space!
We need your help in communication. Email us now– tell us if you are a 1:1 client and wish to come back/ wish to stay virtual/ wish to purchase 1:1's /or if you do not wish to be be back in the studio yet (from end July/early August) for classes or 1:1's. We need to know. Bron will be compiling a list.
We will not be offering class credits to be swapped for 1:1's and used in the studio until the studio timetable is fulling up and running again and financial crisis is calmer waters as it costs us more money to put on the additional teaching hours.
We now have a Virtual Membership – £50 5 virtual classes a month with added benefits- check it out here.
We don't know what lies ahead for us as a business financially, for the Coronavirus, for the Government announcements. We are trying to plan ahead but we are in the hands of the gods a bit here. We are sad to see so many of our local business friends closing their doors permanently. We can only stay going as a business to re-open the doors if you support us and support local. Please do encourage your friends to join our Virtual Classes. You may have individually been sent a 'Refer a Friend' promo- this is your unique code to share. When friends buy a New Client Virtual Intro 7 Days Unlimited offer for £25- you get £5 applied to your account. The more you recommend, the more cash for you!
YOU WILL NEED SOCKS TO COME BACK INTO THE STUDIO– no bare feet. We strongly recommend you purchase a pair of our Grip Socks now whilst stocks last! Choose from regular or ankle strap versions. £12.50. one size. EMAIL TO BUY USING YOUR CARD AND WE WILL DELIVER.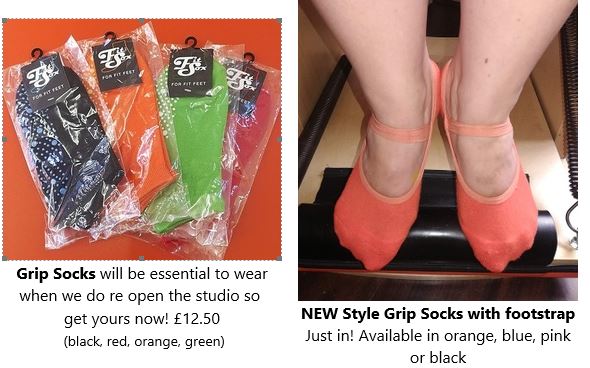 Let's keep being positive. Lets all pat ourselves on the back for coming this far together and let's keep moving those bodies!
Hugs
Michelle & Ed x