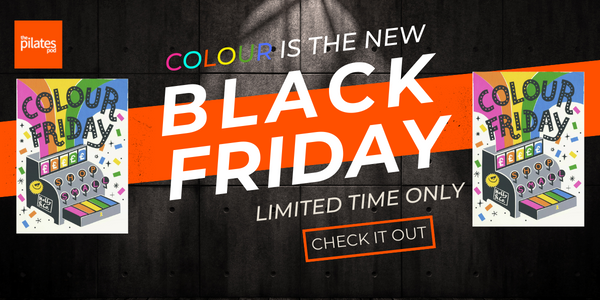 Supporting small businesses like ours on Friday 25th November…
Last year, Holly & Co launched Colour Friday to kickstart a retail revolution for Christmas shoppers. So rather than taking part in the mass consumption of Black Friday, they encouraged the nation to celebrate the colour and creativity that small businesses bring instead — and buy carefully from UK independents.
This year, we're getting behind this even more because did you know…
In a recent poll, half of UK small business owners said they're genuinely concerned that this will be their last Christmas trading?¹
Carbon emissions generated from Black Friday online sales alone are equivalent to 215 flights from London to Sydney?
89% of shoppers reported finding Black Friday highly stressful?
A quarter of Brits surveyed said they regretted their Christmas Black Friday buys?
On 25th November, vote with your money for the kind of world you want to live in. Shop with independent businesses and choose gifts made to last, not gifts made for landfill.
Our small business is about doing good things for people. Looking after your health is always a good place to start and an investment for life. Remember, our classes for 2023 also include Matwork online and 1:1's online too, so these purchases could also be a great Christmas Voucher for a friend across the world too!
COLOUR FRIDAY OFFERS
BUY A PACK OF 10 – GET 1 FREE
Applies to a pack of 10 x classes, 10 x 1:1 PT or 10 x 2:1 Duets.
BUY 1 BEGINNERS – GET 1 HALF PRICE FOR A FRIEND
On New Client Packages ( 3 x Private Training sessions £135) – your friend goes half price when joining the same sessions.
Also available on Group Beginners Classes in November (4 weeks- commencing 23rd November 7pm. £60)
Terms –
Purchase your Colour Friday deals before 1pm 28th November 2022.
Email reception to get your free session added to your pack, or your half price discount added for your friend's beginners booking.
Group beginners only date shown above and subject to limited spaces so book quickly to avoid disappointment!
10 pack have 16 weeks expiry from date of purchase. During Colour Friday, we can offer an extra 2 weeks extension if you already have a pack of classes and wish to buy now to use later.