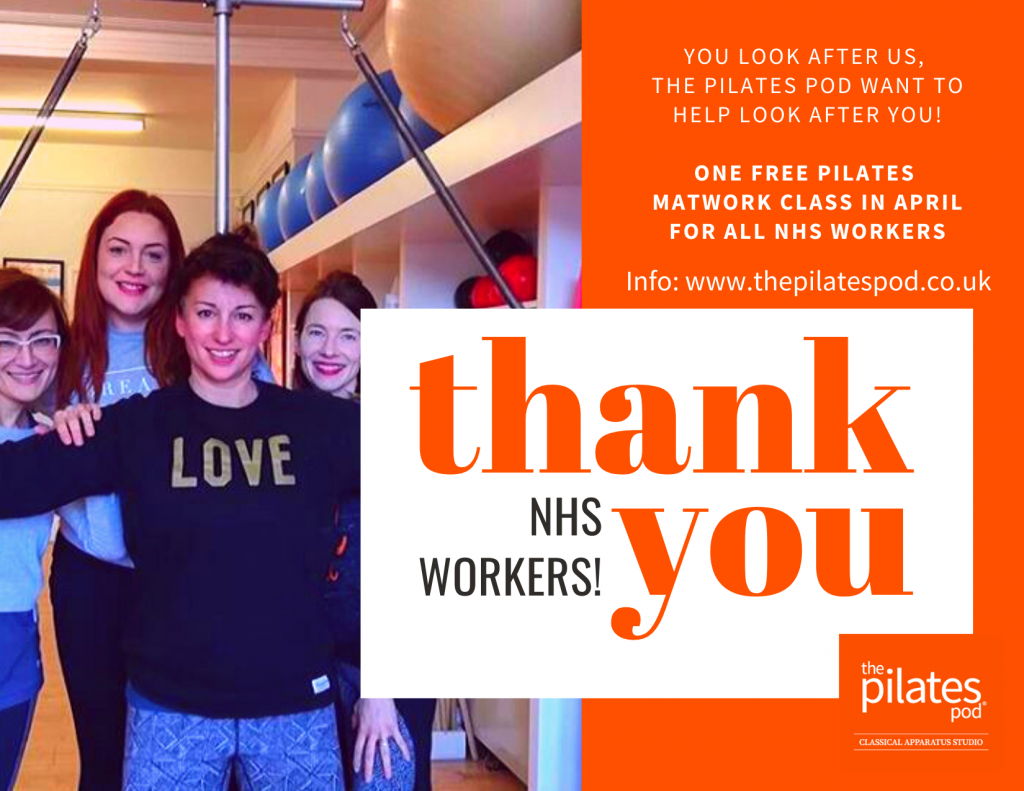 The Coronavirus is a health crisis. Whilst most of the UK are in lock-down and adapting to life in isolation, working online and trying to juggle home, family and work life, the NHS workers are still out there working for us all day in day out and risking their own lives to look after ours.
There is little rest time for them, their bodies and minds are under a huge strain.
At The Pilates Pod, we know the importance of exercising for physical and mental wellbeing. This is even more important than ever in these times we are currently facing.
It's a time to pull together, for community spirit and for looking out for others.
The Pilates Pod are offering all NHS workers in the UK ONE FREE PILATES MATWORK CLASS ONLINE. It's an opportunity to look after your own minds and bodies and take some important time out for you.
To recharge, to rest, to deal with stress, to breathe, to stretch, to strengthen, to re-coup and build your reserves again so you can continue doing the great job you all are.
Last year, I was hospitalised for respiratory issues; battling a nasty virus that made my asthma impossible to control and put my heart and lungs under great strain and damage. I was having asthma attacks every 1/2 hour, I struggled to get any breath and I was in a lot of pain. I was given intravenous steroids and antibiotics, magnesium infusions, morphine and constant nebulisers. My children couldn't visit me in the ward for risk of infection spreading, it was a scary and upsetting time.

Over the last year, I have worked hard to get my damaged body back to good repair.
Pilates has been a hugely important part of that recovery. Movement to improve circulation and help my tired, tight and stressed muscles, breath work for helping inflammation and stimulating the parasympathetic nervous system, strengthening of the deep abdominals to support the back, joints and vital organs,

The team at the Luton and Dunstable Hospital couldn't have been more brilliant! From the paramedics, to the ward nurses, to the consultants, it was first class care. I am still under care to this date and am regarded as 'high risk' from the Coronavirus. So as Owner of The Pilates Pod, I wanted to say a massive THANK YOU to the NHS and we've got your back!

Pod boss and owner, Michelle Smith
To claim your free class, simply visit our website. Create your own login profile and view the timetable for online classes. Then simply email us with a photo of you in your NHS uniform and ID, tell us where you work and what you do there, and what class you'd like to do*
Don't forget to include info of your social media handle on Instagram so we can tag you. We'll reply with a confirmation once you are booked in- voila!! ENJOY.
Nurse Annie, from Luton and Dunstable Hospital takes sessions twice a week 1:1 sessions with Director Michelle. Annie has always been intimidated by exercising; worrying about how she would fit in at standard gym environments and concerns about her own back and joint safety to exercise with Elhers-Danlos syndrome. She calls The Pilates Pod environment and teachers her "safe haven to exercise."
*NB: please note our online classes are not suitable if you are in pain, have diagnosed disc back issues, pregnant or early posnatal. Check out the important info you'll need to take part in our classes, including our online waiver, guidelines for taking care of your body and steps to check you have your email security to allow our notifications of your class to come through. CLICK HERE