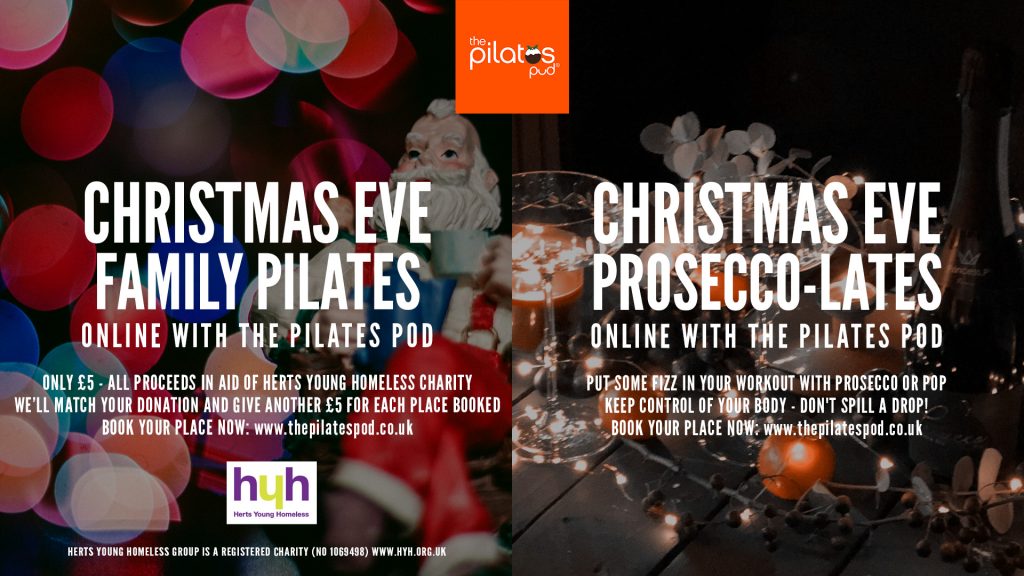 What a year it has been! With all the ups and downs that 2020 has brought us all, we can't wait to get into Christmas mode, pull up the Christmas socks and get on with the festivities.
This year, to make sure that we're not affected by local lockdowns, and left in tiers (see what we did there?) we're running two very special Christmas Eve classes online via zoom, so as many of you as possible can join in the fun and slip into Christmas with some wonderful Pilates courtesy of the Pod elves.
'Rocker' around the Christmas tree with all the whole family, and join our special class on Christmas eve at 9am. We've devised a class fit for all, which includes the famous Mal-teaser challenge!
The class costs just £5 per family (assuming you're all on the same zoom!) and all proceeds will go to the Herts Young Homeless charity. For every place sold, we'll donate another £5 to the charity – who do very important work locally offering a range of FREE services open to all 16 – 24 year olds who are homeless or threatened with homelessness.
10:15 – 11:10am. Put some fizz in your workout with Prosecco or Pop, Keep control of your body – don't spill a drop! Our last class before Father Christmas slips down your Chimney, so we thought we'd send you off with a Christmas Cracker.
Click here to book your Christmas Eve virtual classes now. Merry Christmas!
Get a FREE VIRTUAL CLASS with every Gift Voucher over £50.
Amazon will be fine. But small businesses still need your help, so we pledge to show local and support small this year. One of our most regular and enthusiastic Pod clients Wendie Ray, got bought a Pod Gift Voucher for Christmas 2 years ago. She didn't even know she wanted it! But she is so grateful that her hubby gave her such a thoughtful gift that meant so much more than perfume, and lasted a lot longer than a candle or chocs.
She's been a big advocate of the Pod and the benefits of Pilates ever since.
Remember, a Pod Gift Voucher be for any value, and can be used on classes or personal training virtual or studio, home workout programmes, or any retail item.
Introducing The Pilates Pud Mince Pies Awards (also known as TTMPA's!!)
We're looking for your help to discover the Mince Pie of the Year (2020). Which pie will be crowned 'Podders Mince Pie of the Year' – YOU DECIDE. Votes are now OPEN! CLICK HERE TO VOTE (please vote as many times as possible, there is a prize for the most votes.)
The awards will be announced on Christmas Eve at our classes.