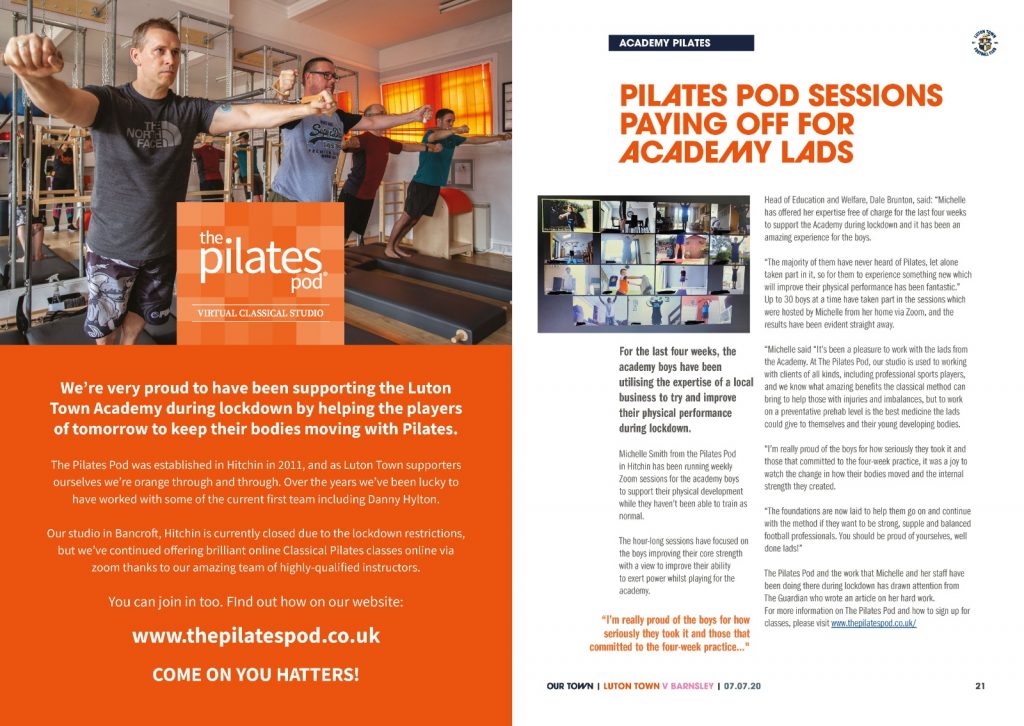 We're absolutely thrilled to feature on a double page spread within the Luton Town FC official matchday programme for their game against Barnsley at Kenilworth Road this evening.
Over the last month, Michelle has been working with the Luton Town Academy scholars, helping to keep them moving with online virtual classes for the boys and their families.
Head of Education and Welfare, Dale Brunton, said: "Michelle has offered her expertise free of charge for the last four weeks to support the Academy during lockdown and it has been an amazing experience for the boys.
"The majority of them have never heard of Pilates, let alone taken part in it, so for them to experience something new which will improve their physical performance has been fantastic." Up to 30 boys at a time have taken part in the sessions which were hosted by Michelle from her home via Zoom, and the results have been evident straight away.
"Michelle said "It's been a pleasure to work with the lads from the Academy. At The Pilates Pod, our studio is used to working with clients of all kinds, including professional sports players, and we know what amazing benefits the classical method can bring to help those with injuries and imbalances, but to work on a preventative prehab level is the best medicine the lads could give to themselves and their young developing bodies.
"I'm really proud of the boys for how seriously they took it and those that committed to the four-week practice, it was a joy to watch the change in how their bodies moved and the internal strength they created.
"The foundations are now laid to help them go on and continue with the method if they want to be strong, supple and balanced football professionals. You should be proud of yourselves, well done lads!"
We're delighted to have a strong relationship with Luton Town, going back several years. We're keen supporters here at the Pod, and wish everyone at the Club the best of luck as they strive to retain their place in the Championship for next season.
Click here to read the full article now.