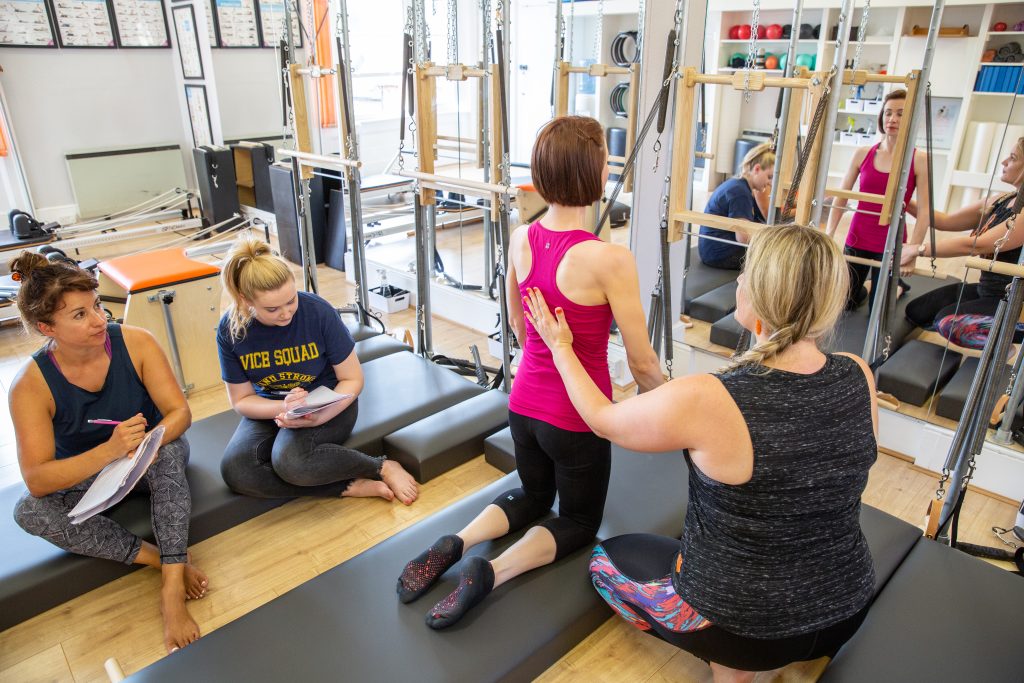 Are you ready to take your Pilates to the next level and teach?
Pilates Academy is delighted to open its doors in 2024, to the next recruits in Comprehensive Classical Pilates Teacher Training.
Are you an existing Pilates matwork teacher with a minimum level 3 or Pilates Matwork certification?
Do you have a full comprehensive training cert in a contemporary format but want to level up you skills and jump over to classical?
Are you a Pilates lover and want to take your passion for Pilates to the next level and become a teacher?
There is a lack of good training in the fitness industry of Pilates, and it is still a profession that doesn't have a professional body. Over the last few years, the Pilates industry has seen the occupational code status to differentiate a mat/reformer teacher and a full comprehensive teacher, the fitness industry changed the original level 3 matwork title to the 'Pilates based' teacher, and there has been a rise of injuries in fitness style Reformer Pilates.
There's never been a better time to upskill your knowledge, awareness and training.

Current classical full comprehensive training programmes can be brutally tough going!
Often a 2-2.5 year lengthy process, a huge upfront financial cost and ongoing mounting costs, reaching up to £20k, a binding commitment to be present in the studio for over 20 hours per week, all while also juggling your family and teaching life.
While the original deep-rooted classical training is second to none, this can be hard for someone even to consider and sometimes off-putting to work alongside a lineage of dancers if you don't feel like you fit into this world.

Current contemporary schools offer a more flexible modulation approach to help with time and cost. But in splitting up the pieces of apparatus to learn on, one after the other, and leveling each part- you miss the crucial 'recipe' of Pilates that Joe Pilates created for his clients, which occurs when you learn on all the apparatus together from the ground up! This is the biggest reason why I see many teachers come to our academy and studio for more workshops, sessions and training.
It's why they can't understand that they have achieved a 'master certification status' as a teacher, but can't do a Teaser properly themselves. Or they feel there are gaps in their knowledge and understanding of how to work with certain types of clients' conditions and issues, and people often say they don't know what to see on the Reformer or Mat that is on a deeper level and how to address those needs for the client on other pieces of apparatus.
So imagine if you could unlock all those secrets and never feel like that again!
Teaching Pilates is not about taking a course to learn lists of exercises.
The exercises are just one part of learning to teach Pilates.
It's about doing Pilates yourself, as student of Pilates, way before you look to teach Pilates.
It's about understanding Pilates is a method, a discipline, a system, a recipe. It has a way that links one thing to another, to use difference pieces of apparatus to improve the work on the reformer, which improves the work on the mat.
Are you ready to commit to something special?
What if there was a way of getting top quality authentic Pilates and its integrity of what it is meant for, with a different way of modulating that gave you more flexibility with your time and costs?

What if the excellence in Pilates didn't have to come with the cost of unattainable ways and such a fierce reputation?
What if you undertook training that made you go wow, with no big missing gaps to fill?
What if training could leave you feeling so confident to handle all sorts of clients with multiple levels simultaneously, with injuries and specialist populations but in the most straightforward format that stripped away all the waffle and flowery language?
What if you didn't have to trek in and out of London for training dates and traineeship but could do something closer to home?
What if you could have a Pilates career that elevated you to the next level, made you sought after worldwide and would future-proof yourself against the fitness industry's scarily watered-down approaches to training?

Pilates Academy Full Comprehensive Classical Teacher Training (run by Michelle from The Pilates Pod and assisted by Ellen as Mentor and Senior Teacher.)
Course dates In-Person Hitchin 2024/2025
January – Prep your body (self-attendance sessions/self practice to get your body ready.)
February – Teacher Training 1. Pre Pilates, Pilates Concepts & Teacher Framework. Fri 9th/ Sat 10th
March – Teacher Training 2. Foundations. Thurs 21st / Fri 22nd / Saturday 23rd March.
June – Teacher Training 3. Progressions. Friday 21st/Saturday 22nd/Sunday 23rd June.
September- Teacher Training 4. Intermediate. Thursday 19th / Friday 20th/ Saturday 21st September.
January 2025- Teacher Training 5. Advancing. Fri 24th/Sat 25th/Sun 26th January 2025.
Timings each weekend:
Thursdays: 11.30 am to 5.30pm | Friday: 11.30 am to 5.30pm | Sat 12pm to 6pm | Sun 12.00 to 5.00pm

Training and Traineeship comprises of:
A dedicated minimum 600 hours traineeship of Independent study of observation, assisting, practice teaching, self-mastery and attendance. (All done flexibly in (mostly) your own time across a year.)
Support materials – written, audio and visual for all types of learners. Online Content.
4 assessments along the way to help you to stay on track and receive feedback and guidance, including final completion exams. All testing includes both written and practical elements.
Mentor meetings with helpful topics outside of the actual exercises to help you become the best teacher you can be. (There are approx 10 topics to cover across the year- ranging from 'The Art of Hands On' to 'Teacher Presence' to 'Anatomy of Pilates' and much more. Some of these sessions are recordings for you to watch online. Some are in-person sessions run at The Pilates Pod on a Friday for approx 2-3 hours. Dates agreed throughout the course.
Weekly trainee days to connect with your peers, trainer and mentor. (you are expected to attend the studio on Tuesdays between 830am – 3.30pm with the other trainees, whenever possible each week, and assist with the running of the studio, observation, practice, attendance)
Payment plans to spread the course fee over the year.
Pilates Academy has exclusive rights to use The Pilates Pod for this training. It is open to you 7 days a week to ensure you can practice when you wish.
You are able to bring friends and family to practice in to the studio under your own trainee teacher responsibility, in alignment with Pilates Academy and The Pilates Pod health, safety and guidelines. Bodies can be used with no charge to use the studio and no charge to the body for receiving the session.
The Pilates Pod and Pilates Academy will also offer discounted trainee sessions (basic and intermediate) to the public when trainees are trained to teach up to Intermediate Level.
25% trainee discount for you to use on your attendance in group sessions and private sessions (to be paid separately to The Pilates Pod) Applies to PAYG sessions.
Course content covers:
The main apparatus and exercises from matwork, reformer, high chair, wunda chair, ped o pul, spine corrector, small barrel, ladder barrel, airplane board, Cadillac and tower.
(Does not include toe gizmo, foot corrector, sandbag, eye chart, guillotine, baby arm chair, neck stretcher, hand tensometer, which are taught in other CPD workouts)
Covers all levels from pre-pilates to foundational, progression, intermediate and advancing.
(Does not include super advanced)
Covers multi-level teaching- a rare skill that most training courses leave out but will put you in the top teachers and enable you to maximize income and space.
It covers special populations and injuries to help you feel confident from working with eldery, children, overweight, back, neck, hip and shoulder issues, pregnancy and postnatal.
Independent study consists of observations, sessions, practicing, assisting and teaching, as well as personal study. These hours must be completed prior to testing.
You are expected to complete a minimum of 70% of your independent study at the studio around the presence of another teacher.

Course fee £5250.
There are only 4 spaces left before I close the doors on this small group, so don't delay. I will not be running this course again for another few years!
To book or to enquire: Please email meacademyuk@gmail.com