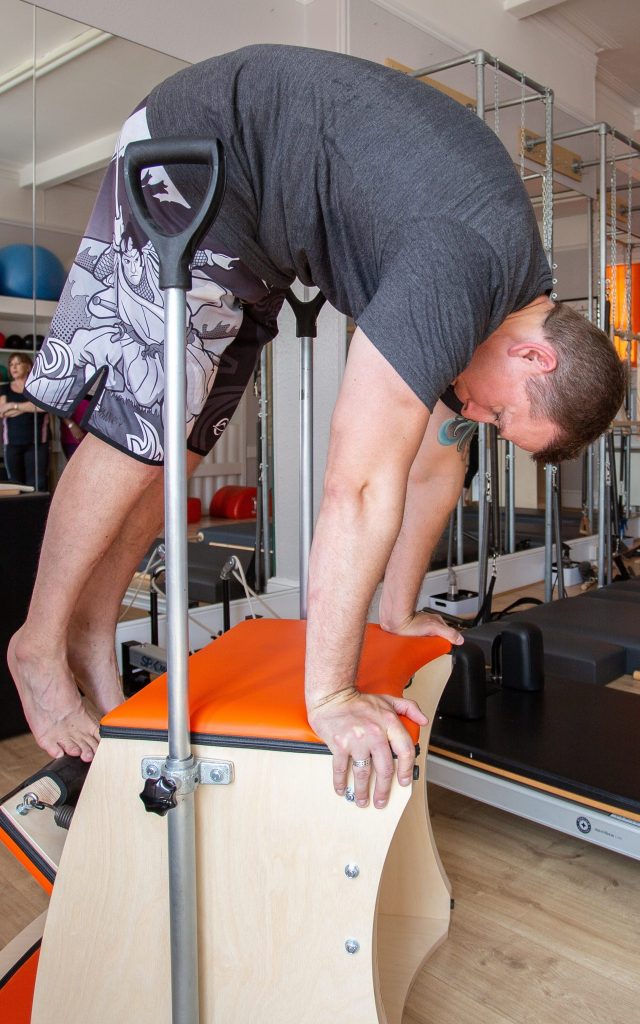 For me, the Wunda chair has always been marmite.

Michelle
I used to hate it.
I started Pilates 18 years ago because of a car accident. For years, I could barely put on my own undies let alone lift a pedal whilst being upside down on the Wunda chair! I was all about Pre Pilates basic mat and rehab.
When I got really "into" Pilates, my love and go to piece of apparatus was all about the Reformer, until I discovered the rest of the apparatus.
When I had a baby, my body craved the full support of the Cadillac and strong springs from the High Chair.
When i did my Classical training programme, it was all about just trying to learn thousands of exercises. The Wunda chair became my nemesis. It was HARD. (I was also 2 months post natal)
After every long day at teaching at the studio, it was the barrels I went to for "me time" to decompress my spine from standing on my feet and assisting bodies all day.
The less I loved the Wunda Chair, the less is loved it back 🙁
Then lockdown happened…
I remembered Joe Pilates created the Wunda Chair that would fit comfortably into small New York apartments. There was no chance I was fitting a Reformer in at home alongside two parents home working and one kid homeschooling and the other just liking to make mess. The Wunda chair was a perfect choice to keep up my Pilates practice at home. It was designed to be a beautiful and functional chair that was great for your spinal alignment and posture, but converted easily into the first functional home-gym apparatus!
Apparently Joe Pilates closed the studio every hot NY summer and made his clients to purchase a Wunda Chair for home along with a list of exercises he gave them individually to continue self practice religiously until they restarted in September. They were diligent students and listened to "Uncle Joe", they were tested when they got back and they passed!
My family loved testing out the chair compared to 'modern' chairs and noted the amazing benefits of having the deep V position for your tailbone to drop down into and allowing your spine to lengthen- completely the opposite to the chairs we know now that do nothing for our bodies and allow us to slouch, put pressure on our lower back and tailbones!
It was so interesting watching little Ruby aged 4, hop on and instinctively press the pedal down without any instruction from me. It's a great piece for children to use who little bodies don't need "reforming."
It's not easy, I'm not going to lie…
I now realise why I've always had a love/hate relationship with the Wunda Chair. It's a challenge piece!
There's no laying down support that the Mat or Reformer gives you, the mat to lay on here is tiny (and small equals more challenge!)
There's no strong springs of the High Chair- these guys are lighter (and lighter equals less support.)
There's no framework to hold onto like the big Cadillac or my beloved High Chair (and framework equals support and feedback.)
BASICALLY- there is nowhere to hide your bad bits, ugly bits, wonky bits, imbalances from one side to the other. That's why people often don't like it, until they check in with their ego like I had to do!
But it's so versatile!
Within 10 seconds, you can flip it over and you have a fully useable chair converted into a resistance workout!
It's lightweight compared to the other pieces of apparatus so you can move it around easily.
You can pop it near your High Chair or Cadillac and use them as a support extension to aid you on the Wunda Chair (Teaser Twist, Teaser, Swan, are all game changers when you do this!)
Just like other pieces of apparatus, the springs are just guidelines. So of course you can change to 2 top springs for heavier and more sturdy support if you need it, but then lighter framed people or those who just simply live for strong challenges, can easily pop the springs down to 2 bottom ones. You choose what gives you what you need.
It's a great choice for those with scoliosis, pregnant, children.
You can take inspiration from other apparatus and do it on the Wunda Chair for a whole new dimension!
Add some springs from the Cadillac/Tower and you can even do the most loved Arm Springs and Leg Springs work too. Literally endless opportunities (and thanks to some study with Kathi Ross Nash, I now know a whole workout just sitting in it as a classic chair!
I started to show the Wunda chair some well needed love and attention. Rather than brushing it off for the other pieces of apparatus, I got ready for the challenge.
I got lift where I needed lift in my back, I learnt more about my left v right side symmetry and boy did it challenge my "pilates trinity" (inner thighs, glutes and abs) HELLOOOOOOOO! This is Wunda-ful!
Now I challenge you to get off the comforting friend of the Reformer or the Tower, check in with your ego, get in touch with your not so pretty Pilates and get on the Wunda Chair. It's gonna be a great ride!
(and because I just love this Wunda Chair challenge workout, I'm sharing this video by Andrea Maida – cheers Andrea!)
Join in our Reformer/Wunda Chair Classes: Mondays 8.15pm, Tuesdays 9.30am, Wednesdays 8.15pm, Thursdays 7pm, Saturdays 10.15am. Book here.