Every March, Pilates enthusiasts across the globe share their love for the work in a synchronized social media campaign.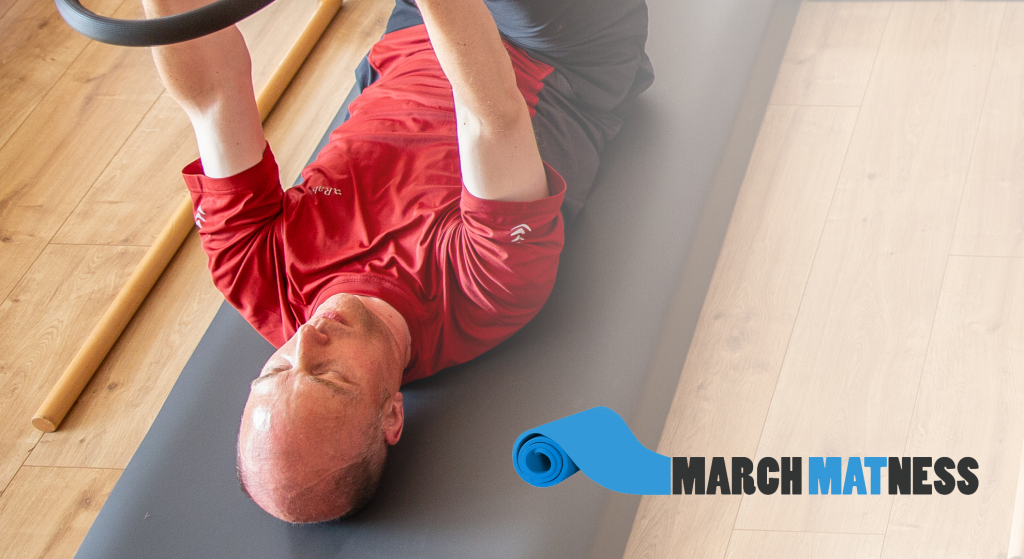 Ready to join the movement? Fantastic! First, roll out your Mat. Then follow these steps:
Follow March MATness on social media
Follow us @thepilatespod and @marchmatness on Facebook or Instagram.
Posting schedule
March 1: #hundred
March 2: #rollup
March 3: #rollover
March 4: #onelegcircle
March 5: #rollingback
March 6: #onelegstretch
March 7: #doublelegstretch
March 8: #spinestretch
March 9: #rockerwithopenlegs
March 10: #corkscrew
March 11: #saw
March 12: #swandive
March 13: #onelegkick
March 14: #doublelegkick
March 15: #neckpull
March 16: #scissors and #bicycle
March 17: #shoulderbridge
March 18: #spinetwist
March 19: #jackknife
March 20: #sidekick
March 21: #teaser
March 22: #hiptwist
March 23: #swimming
March 24: #legpulls (front and back)
March 25: #kneelingsidekick
March 26: #sidebend
March 27: #boomerang
March 28: #seal and #crab
March 29: #rocking
March 30: #controlbalance
March 31: #pushup
Create something worth sharing
It could be a photograph, a video, musings, practice tips, a drawing… capture the original, a variation, a tip… any form of expression is welcome!
Add hashtags
To connect with everyone participating, use the corresponding hashtag as listed above with each exercise and add #podsquad #marchmatness2019! Tag @thepilatespod and @marchmatness on Instagram for a chance to get reposted!
Spread the word!
Post on Facebook, Twitter, Instagram, your blog, tell your friends, and celebrate with us.
Practice!
Simply search the hashtags to get inspired and fall in love with your daily movement practice!