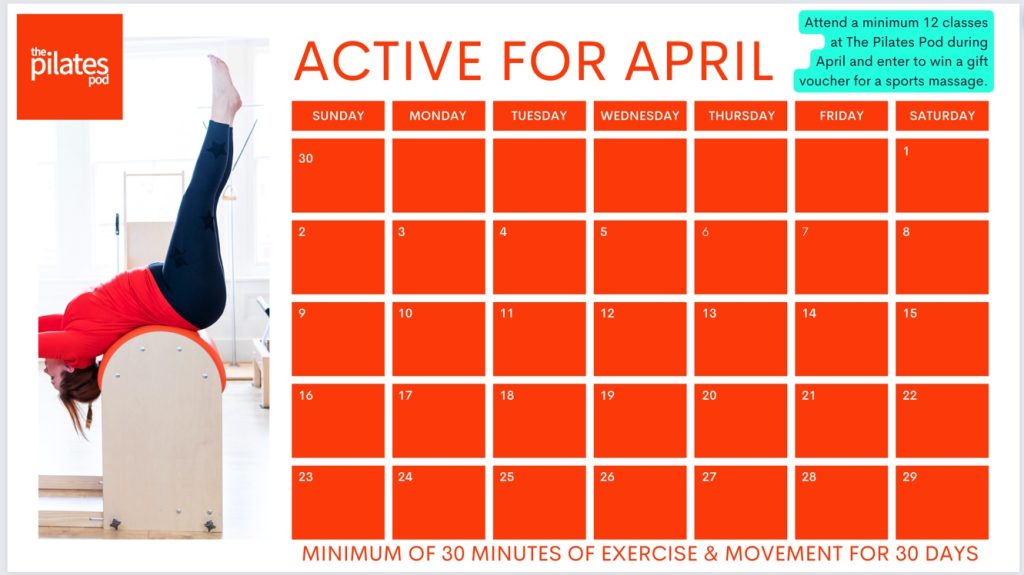 It's really simple. We all don't move nearly as much as we need to!
According to the current Physical Activity Guidelines, the recommendation is for adults to be active per week for
150 minutes of moderate-intensity physical activity or 75 minutes of vigorous intensity activity PLUS
2 days of muscle strengthening activity.
It's time to get moving and make the most of Spring.
So let's get Active for April!
Whatever activities you choose it's completely up to you.
Let's all agree to find something active to do every day. It doesn't have to be a lot, just 30 minutes a day is fine, but something that gets you moving and out of your comfort zone.
There are so many activities to choose from besides the gym – walking the dog, swimming, gardening, cycling, dancing, yoga, Pilates, running, boxing, climbing stairs, joining in to the Body Coach on You Tube!
The definition of fitness isn't about
How much weight you want to lose
What size jeans you wear
What your body transformation photos look like
How many calories you eat (or don't eat!)
The term physical fitness actually means
"The capacity to carry out everyday activities without excessive fatigue and yet have sufficient energy in reserve to cope with emergencies and to enjoy active leisure pursuits."
One weekly exercise class is great, but it's not always enough to keep up with the physical demands of life. When we experience aches and pains, it's a sign to move more often, but smarter not harder. Maybe your knees don't feel their best with HIIT classes, try a dance class instead. Or maybe Pilates or a long walk will do more for your mind and body than burpees.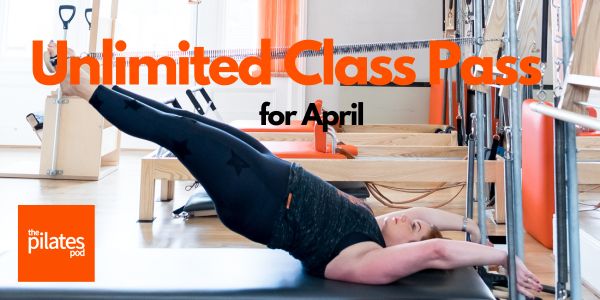 We're here to help you!
Download and print our helpful Active for April calendar to keep on your desk or fridge – wherever it will remind you the most.
Mark each day with the activity you did (more than 30 mins) and note down the letter MA for moderate activity, VA for vigorous activity and MS for muscle strengthening activity.
Attend at least 12 sessions at The Pilates Pod during April and you'll not only be boosting your activity chart, but you'll also be in with a chance to win a sports massage voucher!
Plus, you can purchase our April Unlimited Class Pass to help you reach your goals.
Don't forget to hand in your Active for April calendar to Lisanne by 6th May to be checked and entered.
Enjoy the fantastic feeling of being healthier and happier this April, and kickstart things for Spring and Summer.
Moderate Activities include things like:
brisk walking.
water aerobics.
riding a bike.
dancing.
tennis.
pushing a lawn mower.
hiking.
rollerblading.
yoga
pilates tower/ barrels/gentle basic mat.
Vigorous Activities include things like:
aerobics or HIIT.
biking faster than 10 miles per hour.
heavy gardening (digging, hoeing)
Pilates reformer or matwork with orders and transitions
hiking uphill.
jumping rope continously
martial arts (such as karate)
running.
Muscle Strengthening Activities include things like:
Pilates matwork or anything with springs
lifting weights.
working with resistance bands.
heavy gardening, such as digging and shovelling.
climbing stairs.
hill walking.
cycling.
dancing
push-ups, sit-ups and squats.
Holding poses in yoga
Reach your fitness goals this April and save with our special one month UNLIMITED Class Pass – only £165!
Don't forget, if you already have a membership with us you can pause it for April and upgrade to this offer instead.