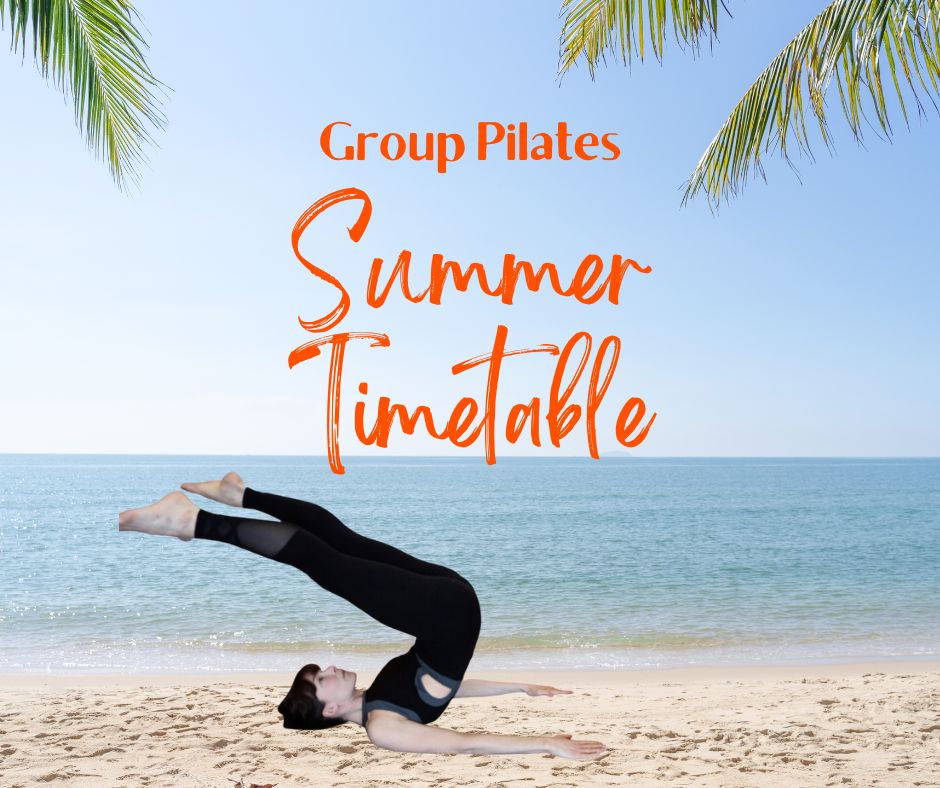 Join us for a Summer of Fun of Pilates!
From 31st July to 3rd September inclusive, we're running a whole heap of different group Pilates sessions for you to try.
From Reformer workouts, Barrels time, Online Mat workouts to decompress the spine, Wunda chair sessions to challenge you, and our popular Tower time. – there's something for everyone, both in the studio and online.
Keep up with your Pilates even when you're away on hols or when the kids are with you at home, with online mat sessions, or why not try some different studio sessions and try some out some of the apparatus you've not used much before?
Please check the session level and the description before booking your space so you are aware if this is suitable for you. Online sessions are 45 minutes, all other sessions are 55 minutes. View timetable here.
New and Returning Clients Special Offer:
5 for £99 : Choose any 5 Foundational or Open Level group sessions PURCHASE HERE
A polite request!
Our group sessions are small, so you get time with the teacher to give you assistance and guidance. But because we keep things small and we have to staff sessions accordingly whilst also juggling staff holidays and family responsibilities, we respectfully ask that you only book on to what you are definitely able to attend and cancel sessions well in advance.
It is useful for clients to book via the waitlist if sessions are full, as you will automatically be notified by email should a place come up, and you can choose to accept it.
Please note that any group session with less than two people booked will automatically be cancelled, and you can rebook your credit onto another session. You will be notified by automatic email so do check before you attend.
Our app is the quickest way to manage your account – see what sessions you have on a waitlist, or booked and up and coming. Reception is only available for a few hours per week, but you can buy, book, cancel, view, and manage your whole account via our web login or app.
Mondays:
31st July:
9.30 – 10.25am Tower Time – OPEN LEVEL – Teacher Michelle
6.15 -7.10pm Small Props, Big Fun – OPEN LEVEL – Teacher Fiona
8.20 – 9.05pm Studio & Online Matwork – Decompress Your Spine – FOUNDATIONAL LEVEL – Teacher Fiona
7th August:
9.30 – 10.25am Reformer & Tower – FOUNDATIONAL LEVEL – Teacher Fiona
6.15 -7.10pm Tower Time – OPEN LEVEL – Teacher Fiona
8.20 – 9.05pm Studio & Online Matwork – Decompress Your Spine – FOUNDATIONAL LEVEL – Teacher Fiona
14th August:
9.30 – 10.25am Reformer & Tower – FOUNDATIONAL LEVEL – Teacher Fiona
6.15 -7.10pm Tower Time – OPEN LEVEL – Teacher Fiona
8.20 – 9.05pm Studio & Online Matwork – Decompress Your Spine – FOUNDATIONAL LEVEL – Teacher Fiona
21st August:
9.30 – 10.25am Small Barrels – PROGRESSION LEVEL – Teacher Fiona
6.20 -7.05pm Studio & Online Matwork -Handweights- INTERMEDIATE LEVEL – Teacher Fiona
8.20 – 9.05pm Studio & Online Matwork – Decompress Your Spine – FOUNDATIONAL LEVEL – Teacher Fiona
28th August: CLOSED BANK HOLIDAY
Tuesdays:
1st August:
9.30 – 10.25am Barrels Time – OPEN LEVEL – Teacher Michelle
8th August:
9.30 – 10.25am Fascia Release & Stretch – OPEN LEVEL – Teacher Dawn
15th August:
9.30 – 10.25am Refomer Time – PROGRESSION LEVEL – Teacher Dawn
22nd August:
9.30 – 10.25am Small Props, Big Fun – OPEN LEVEL – Teacher Dawn
29th August:
9.30 – 10.25am Tower Time – OPEN LEVEL – Teacher Dawn
Wednesdays:
2nd August:
9.30 – 10.25am Small Props, Big Fun – OPEN LEVEL – Teacher Michelle
7.00 – 7.55pm Reformer & Tower – FOUNDATION LEVEL – Teacher Fiona
8.00 – 8.55pm Small Barrels – OPEN LEVEL – Teacher Fiona
9th August:
9.30 – 10.25am Tower Time – OPEN LEVEL – Teacher Dawn
7.00 – 7.55pm Reformer & Tower – FOUNDATION LEVEL – Teacher Fiona
8.00 – 8.55pm Tower Time – OPEN LEVEL – Teacher Fiona
16th August:
9.30 – 10.25am Reformer & Tower – OPEN LEVEL – Teacher Ellen
12.35 – 1.20pm Studio & Online Matwork – Decompress Your Spine – FOUNDATIONAL LEVEL – Teacher Ellen
7.00 – 7.55pm Small Props, Big Fun – FOUNDATION LEVEL – Teacher Fiona
8.00 – 8.55pm Reformer & Tower – OPEN LEVEL – Teacher Fiona
23rd August:
9.30 – 10.25am Tower Time – OPEN LEVEL – Teacher Ellen
12.35 – 1.20pm Studio & Online Matwork – Decompress Your Spine – FOUNDATIONAL LEVEL – Teacher Ellen
7.00 – 7.55pm Tower Time – FOUNDATION LEVEL – Teacher Fiona
8.00 – 8.55pm Small Barrels – OPEN LEVEL – Teacher Fiona
30th August:
9.30 – 10.25am Small Props, Big Fun – OPEN LEVEL – Teacher Ellen
12.35 – 1.20pm Studio & Online Matwork – Decompress Your Spine – FOUNDATIONAL LEVEL – Teacher Ellen
7.00 – 7.55pm Reformer & Tower – FOUNDATION LEVEL – Teacher Fiona
8.00 – 8.55pm Fascia Release & Stretch – OPEN LEVEL – Teacher Fiona
Thursdays:
3rd August:
9.30 – 10.25am Fascia Release & Stretch – OPEN LEVEL – Teacher Fiona
7.15 – 8.10pm Wunda Chairs & High Chair- OPEN LEVEL – Teacher Ellen
10th August:
9.30 – 10.25am Reformer & Tower – OPEN LEVEL – Teacher Fiona
7.15 – 8.10pm Reformer Time- PROGRESSION LEVEL – Teacher Fiona
17th August:
9.30 – 10.25am Tower Time – OPEN LEVEL – Teacher Fiona
7.15 – 8.10pm Small Props, Big Fun- OPEN LEVEL – Teacher Ellen
24th August:
9.30 – 10.25am Small Props, Big Fun – OPEN LEVEL – Teacher Fiona
7.15 – 8.10pm Small Barrels- OPEN LEVEL – Teacher Ellen
31st August:
9.30 – 10.25am Small Barrels – OPEN LEVEL – Teacher Fiona
7.15 – 8.10pm Wunda Chairs & High Chair- OPEN LEVEL – Teacher Ellen
Fridays:
4th August:
10.15 – 11.20am Tower Time – OPEN LEVEL – Teacher Ellen
6.00 – 6.55pm Small Barrels- OPEN LEVEL – Teacher Fiona
11th August:
10.15 – 11.20am NO CLASS
6.00 – 6.55pm Reformer & Tower- OPEN LEVEL – Teacher Fiona
18th August:
10.15 – 11.20am Reformer & Tower – OPEN LEVEL – Teacher Ellen
6.00 – 6.55pm Small Props, Big Fun- OPEN LEVEL – Teacher Fiona
25th August:
10.15 – 11.20am Fascia Release & Stretch – OPEN LEVEL – Teacher Ellen
6.00 – 6.55pm Tower Time- OPEN LEVEL – Teacher Fiona
1st September:
10.15 – 11.20am Reformer & Tower – OPEN LEVEL – Teacher Ellen
6.00 – 6.55pm Tower Time – OPEN LEVEL – Teacher Fiona
Saturdays
5th August:
10.00 – 10.55am Wunda Chairs & High Chair – OPEN LEVEL – Teacher Fiona
12th August:
10.00 – 10.55am Reformer Time – PROGRESSION LEVEL – Teacher Dawn
19th August:
10.00 – 10.55am Small Barrels – OPEN LEVEL – Teacher Fiona
26th August:
10.00 – 10.55am Fascia Release & Stretch – OPEN LEVEL – Teacher Dawn
2nd September:
10.00 – 10.55am Tower Time! – OPEN LEVEL – Teacher Fiona
Sundays
6th August:
10.00 – 10.55am Reformer & Tower – OPEN LEVEL – Teacher Fiona
13th August:
10.00 – 10.55am Tower Time! – OPEN LEVEL – Teacher Fiona
20th August:
10.00 – 10.55am Small Barrels – OPEN LEVEL – Teacher Fiona
27th August:
10.00 – 10.55am Small Props, Big Fun – OPEN LEVEL – Teacher Ellen
3rd August:
10.00 – 10.55am Tower Time! – OPEN LEVEL – Teacher Fiona