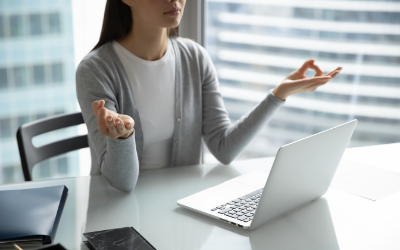 The Pilates Pod has always been at the front running for workplace wellbeing.
Over our (nearly) 11 years in business, we have seen team members join us for various reasons. They often include wanting to be part of a smaller company that cares or not feeling mentally well at their full time, stressful, commuter role in London where corporate suits and sales were at the forefront and not staff wellbeing.
We are committed to the well-being of our clients, that's the whole point of our business model!
We're also committed to staying on top of our policies and procedures and have recently attended Making Workplace Wellbeing Really Working by Thriving Workplaces and MIND to ensure we stay up to date with the best practices.
In the last couple of years, we have seen a significant shift in what employees want from their workplace. It is no longer just about bonuses, pay rises, and promotions, but the more meaningful simple everyday environments, practices, communications, and continuity that people are looking for.
Our policy and procedures on offer for the team include:
Free Pilates classes and discounted Director led 1:1's.
Centralising staff communication channels
Setting boundaries for no communication times.
Workstation wellness.
Staff presents
Apprenticeship programme.
Family and friends schemes.
Maternity wellbeing risk assessments.
Stress and mental wellbeing support.
Identifying training and upskilling areas.
Managing team relationships.
Monthly team communications and 1:1 employee meetings.
Natural light and fresh air.
Family work-life support.
Team socials
Proceedures around avoiding teaching burnout.
Opportunities to be involved in meaningly drives like annual fundraising and body confidence campaigns.
Part time, agile working, shift patterns, family friendly working arrangements and home working.
Free access to health and wellbeing apps.
Transparency and open-door policy.
The results
From assessments and discussions at the training, we are thrilled to be in the top 10% of companies in Hertfordshire that offer this kind of workplace wellbeing. This is especially key to us in that we are a small company where margins are tight, funds are squeezed, the workforce is smaller and the HR officer, Wellbeing Officer are all included in the role of CEO's (and Pilates teacher, and marketing guru, social media expert, and Pilates teacher trainer!)
The move away from the standard office work is what people are looking for now and career choices to start their own business, buy a business, or retrain.
Where are the areas for improvement?
According to the assessments, we are leading the way with our clients and our teams in our workplace wellness, but it seems not with ourselves at Directors. Wider conversations around this showed that CEO's/Directors/Owners were often not viewed by others in the same bracket as the staff force and therefore the workplace wellbeing procedures and policies were often overlooked for them. The mentality and expectations have been reported as:
"the buck stops with you" or "if no one else can do what I need, you'll just have to do it" or "surely time off sick doesn't apply to you – you're the boss!" and "can't you just cover that person."

(Real-life feedback from clients and staff to CEO's and business owners in UK small businesses.)
We provide clients with flexible choices around the class and 1:1 styles, 7 days a week services, morning, afternoon, and evening options, financial choices to pay in 3 different ways, and customer service support on top of a fully manageable self-booking tool.
We provide our staff members with all the areas listed above.
In order to ensure we are doing this for everyone else, we are ironically working till 1-2 am most nights, starting at 7 am, working on weekends and days off, not seeing our young family, working when we're sick, ensuring and managing everyone time off but our own, staying plugged in to all communications from clients and staff 24/7, and not taking adequate time out to rest, recover or unwind.
Leading from the front
We continue to be committed to wellness, both physically and mentally. For our clients and for our team and for the benefits that brings to their lives and their families.
But this year, 2022, we will also be including our own wellness in that team mentality. We are not CEO's of a large corporate machine with a team of Board Directors and senior management to help. Everything we do behind the Pilates day to day scenes is done by just 2 people in the "spare time"
This year, we'll be updating our company policies on leadership, mental health and wellbeing, attendance management, physical health and more.
Lead by example!