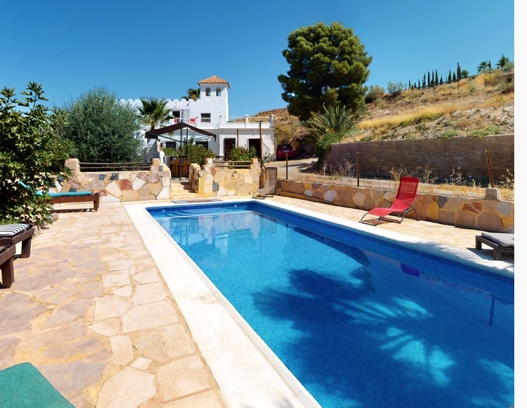 Amidst the chaos, in the middle of the mayhem – LEARN TO PAUSE!
Unwind and Refresh with a Retreat Holiday –  YOU WON'T WANT TO MISS OUT ON!
6-9th October 2023. Almeria, Spain.
BOOK:
Immerse yourself in the breathtaking beauty of the Spanish mountains, where tranquility, relaxation, and joy await.
Join Michelle for an unforgettable Retreat Holiday, focused on the incredible practices of breathwork, releases, and movement.
Unwind, rejuvenate, and reconnect with your body, mind, and soul in this idyllic setting. Nestling alongside the rambla and overlooking the beautiful Sierra de Los Filabres mountains.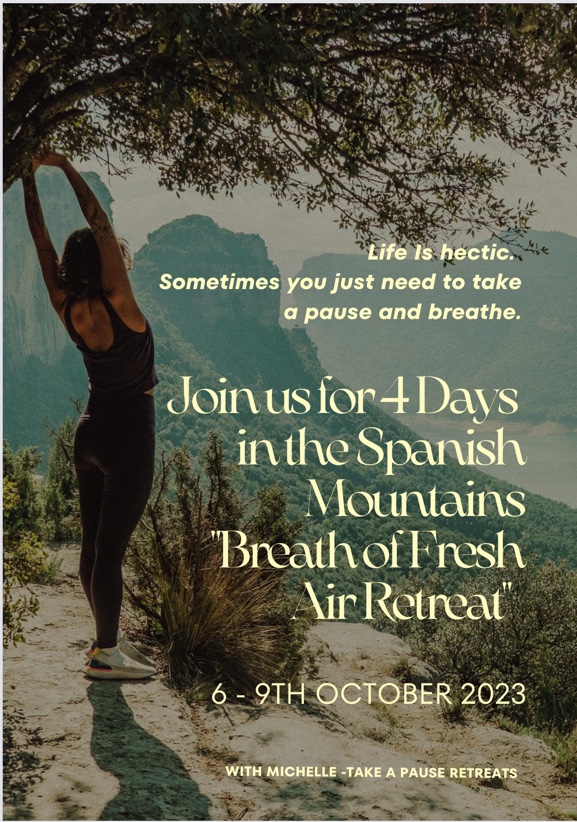 Let your Mind, Body and Heart rest –
You deserve to TAKE A PAUSE!
This brand new retreat is proudly hosted by Michelle through her new company, 'Take a Pause Retreats.'
"People have been asking me for years to do a retreat. It's taken me quite a while to get around to it, but anything that's worthwhile takes time! I wanted to create an experience that's different. I didn't want the usual exercise retreat with crazy 5am starts to do HIIT and hiking up mountains, or the same yogic spiritual retreat like the rest with early bedtimes, food restrictions and no alcohol options for those who would like a glass of wine!
I wanted to bring all of my experiences, training, knowledge and passions that fully embrace who I am personally outside of The Pilates Pod and welcome likeminded people who want to share the same beautiful experience."
This is a Retreat Holiday.
A beautiful blend of stuff that will nourish and educate the mind, lighten the body, and give your soul joy.  All with time-out for rest and relaxation, experiences in nature, and an abundance of laughter, connections and friendships (and just maybe the odd bottle of wine!)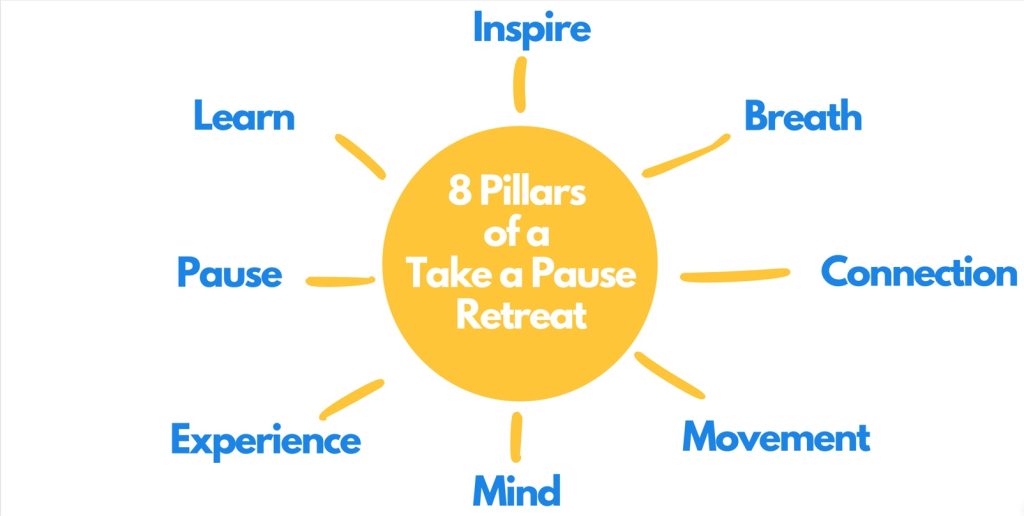 Sometimes we just need to –
TAKE A PAUSE!
Evidence shows there are 5 steps you can do to improve your physical and mental wellbeing.
These 5 pillars are widely used by the NHS and include:
🌟 Connect with other people (social wellbeing)
🌟 Be active (physical wellbeing)
🌟 Learn new skills (developmental wellbeing)
🌟 Pay attention to the present moment (psychological wellbeing)
🌟 Give to others (emotional wellbeing)
Michelle has created 8 pillars for her Take a Pause Retreats
They underpin everything they are about, what you can expect and what you'll take away with you from these memorable experiences. They include:
🌟 Mind – because everything starts here, comes back to here and unites all the other pillars. Another pillar cannot exist in wellbeing without balance to the mind.
🌟 Movement – this is not fitness nor punishment. It's good daily movement to revitalise us, because we all need it, we all can do it, and we all will be thankful for doing it.
🌟 Breath – the most vital but often overlooked part of life and the one that is easily changed and affected by the other pillars.
🌟 Experience -our retreat hosts and presenters are highly experienced in their field, bringing you experts you can trust. You will come away from these retreats having discovered and enjoyed new experiences.
🌟 Connection – to nature, to ourselves, to others around us.
🌟Pause – life is always go go go. Our retreats always enjoy daily time to pause so you can think, rest, recoup, and do just exactly what you need. Coming on a Take A Pause Retreat is a gift to yourself, a little pause in your everyday life. We all need those now and then!
🌟 Learn- our retreats feature workshops. You'll leave with a little more know- how and understanding to help your long term wellbeing.
🌟 Inspire – You can't help but be inspired by the surrounding on our retreats, by nature, by the people you meet, the stories and journeys we share, the masterclases and movements you participate in. 
Pause the distractions, re-aquaint yourself with your mind body and soul-
YOU DESERVE TO TAKE A PAUSE!
 4 Days  in the Spanish Mountains. 'A Breath of Fresh Air' Retreat Holiday. Fri 6th to Mon 9th Oct 2023 
Take four days to escape to the Spanish mountains for a breath of fresh air retreat holiday. Enjoy the crisp mountain air while taking in the stunning views and exploring the surrounding area. Relax and unwind in comfort, with a variety of activities to choose from. Whether you want to hike, cycle, or simply soak up the sun, you'll find something to suit your needs. Spend your days exploring the local culture and cuisine, and your nights stargazing under the clear night sky. This retreat holiday is sure to be a refreshing break from your everyday life!
Investment in You! £995 Private double room / £825 shared twin room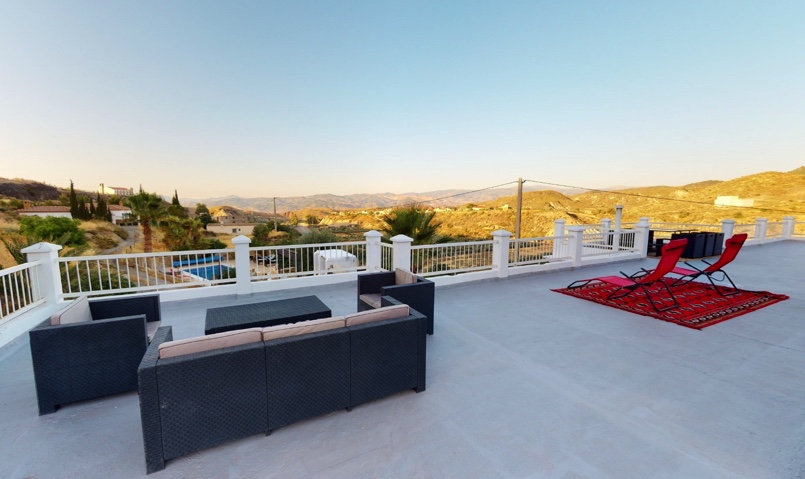 ➡️ BOOK YOUR SPACE NOW ⬅️
£500 deposit.How to Book:Pay £500 non refundable deposit via Bank Transfer to:
Michelle Smith. ACCOUNT: 65150886 . SORT CODE 60-83-71. 
Ref: Your Full Name_Retreat061023 
Email Take a Pause Retreats to confirm your booking and payment made michelle@takeapauseretreats.co.uk 
T&C's
Please note that all deposits are strictly non refundable.
Balance must be paid by 1st August 2023 via the same two steps above or your place will be automatically cancelled. 
Your own medical and travel insurance is mandatory.
We are not responsible for your personal medical or travel care, including luggage and personal items, whilst travelling to or from, or during the retreat.

Not Included
Flights. 
We have done all the research on Sky Scanner so you don't have to. We'll be advising and recommending several flight options from Luton, Stanstead and Gatwick.  This information will be given to you upon booking and we recommend you do not delay in booking your flights.
A group pick up transfer IS included and leaves Alicante airport at 10am on Friday 6th October. Return is Monday 9th at 6.30pm to Almeria airport. Alternative transfer arrangements are at your own cost. To enjoy a full 4 days, we recommend you getting an early morning flight Friday, evening flight Monday.
Alcohol. Unlike many retreat venues, this one does have a bar for you to purchase whatever you like if you desire.
Insurance. It is mandatory that all participants have medical and travel insurance. Proof will be required. We recommend to add it on with the purchase of your flight, and get your GHIC card here.
(Retreat host and retreat venues have their own necessary insurance.)
Spa Treatments. We are lucky to have access to wonderful male grooming, and male/female spa treatments for you to get a bit of a polish and tidy, a spot of pampering or a lot of pampering! Menu list will be given upon booking.
Nuts! This is a strictly no nuts zone as Michelle is highly allergic so please do not bring any along and you won't find them on site. Food allergies and requirements will be asked upon booking and can be catered for.
Don't forget your PJ's (and cuddly toy!) 😉
Above all, learn how to breathe well. Breathing is the first and last act of life. Our very lives depend on it.

Joseph Pilates