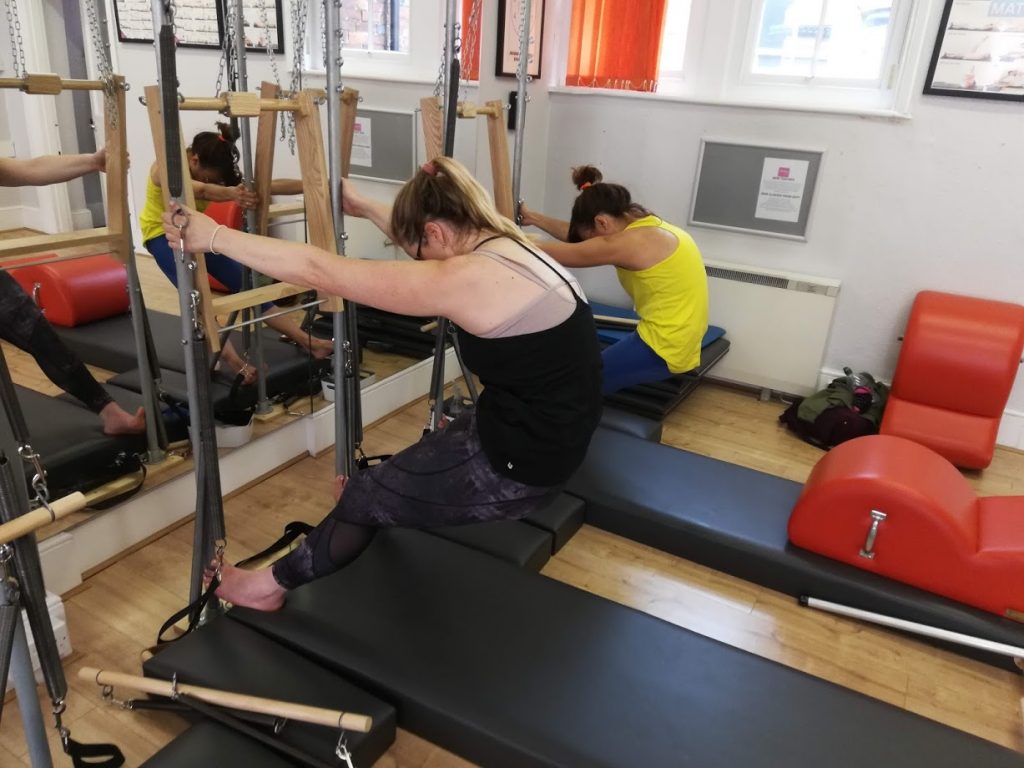 Welcome back to the studio!
We're delighted to have our doors open and the springs singing again!
The Coronavirus crisis is a long way from being over, so we value your support more than ever as we continue moving forwards. But our doors are open and our hearts are as passionate as ever! We cannot wait to help you move your bodies again on our Classical apparatus – the Towers, Reformers, barrels and chairs have missed you!
Please note virtual classes and 1:1's are still available throughout.
You can now choose from so many more ways to come to the Pod! CLICK HERE
STUDIO CLASS OR PT MEMBERSHIPS- FOR USE IN STUDIO ONLY
VIRTUAL CLASS MEMBERSHIPS- FOR USE ONLINE ONLY
HYBRID MEMBERSHIP- GET BOTH VIRTUAL AND STUDIO SESSIONS
Classes available
We will be offering 3 types of studio classes for you to get max benefit from the apparatus, without cross sharing or moving around. Please do take advantage of this time to really learn a few bits of apparatus really well and how to execute the exercise on them. Pilates after all is a practice and a discipline that progresses. We aren't about the performance and just doing a list of exercises.
Tower and Barrel (with some magic circle and matwork) – 4 people, 1 station each with everything you need.
Reformer/Tower (with some magic circle, matwork and barrel) – 2 people on Reformers, 2 people on Towers. You will not change.
Tower/Wunda chair (with some magic circle, matwork and barrel) – 2 people on Wunda chairs, 2 people on Towers. You will not change.
Matwork will stay as Virtual Mat
There are a few changes.
Post Covid19 lockdown, we are a 'hands off' teaching studio to help maintain social distancing policies.
Therefore, to keep you and our team safe you must agree to the following points before you can enter the studio each time you attend. If your personal situation changes one week, please change to an online class.
Please copy and paste the 5 points below and email it to us to confirm your acceptance and liability waiver. You will not be able to attend the studio unless you have done so.
I am able to manage my own body safely and operate the apparatus unaided with control.
If you have mobility issues, neurological or strength/stability issues that mean you need our help getting on or off the apparatus for some exercises, you will need to participate in online classes. If there are 1 or 2 exercises you struggle with without our help but you can manage your body safety and the apparatus control otherwise, please just leave those exercises out.
I am not at high or moderate risk from Coronavirus (COVID-19) or shielding
Please refer to the NHS guidelines to check if this applies to you: https://www.nhs.uk/conditions/coronavirus-covid-19/people-at-higher-risk/whos-at-higher-risk-from-coronavirus/
I am in good health and am not currently showing any symptoms of COVID-19. To the best of my knowledge, I have not been in close contact with others diagnosed with COVID-19 and I have not recently been contacted through NHS Test and Trace.
If any of these are a 'yes' please make sure you have read and complied with the NHS guidelines and cancel your sessions at the studio. https://www.nhs.uk/conditions/coronavirus-covid-19/testing-and-tracing/nhs-test-and-trace-if-youve-been-in-contact-with-a-person-who-has-coronavirus/
I have not visited any country inside the last 14 days that require self isolation on return.
I agree that The Pilates Pod Ltd have taken all reasonable steps to implement strict social distancing and sterilisation measures to protect the public and members of staff against the risk of infection from COVID-19. I understand that I am attending the studio at my own risk and that The Pilates Pod Ltd accept no responsibility in the event of any client unfortunately contracting COVID-19 having attended The Pilates Pod. I will wear a face covering when entering the building and into the reception, but I can remove it to enter the studio for exercise. This is a legal requirement as of 31/7/20
Other important things you need to know…
Please arrive no more than 5 minutes before your appointment. Buzz us from outside as normal, and following social distancing until we let you in. 
Please arrive for your session ready in your workout gear where possible and with a water bottle pre filled. Limit all other items. All personal belongings must fit into one standard shopping bag and go into one locker only.
Toilets are limited to one in one out.
A mask must be worn when in the building and reception. It will be removed and go inside your personal belongings bag for the locker. This is a legal requirement as of 31/7/20 to wear one in close proximity in shared areas. The World Health Organisation do not recommend face masks are worn while exercising because it could reduce the ability to breathe comfortably, However, it's everyone's own choice to decide if they want to wear a mask while exercising. If you need to wear a mask for health reasons, you should not be in the studio and we advise you to do online classes.
Teachers will not be wearing masks to teach but will be maintaining social distancing 2m and will be hands off. If we need to step in for safety urgency, we shall wear face covering first. We all will be wearing our bandana face masks at all times around our necks so we have them to hand very quickly and will be used in shared areas of reception.
Please respect social distancing inside the building as the building in co-shared with other businesses.
Please do not attend if you are feeling unwell.
Please wait outside the studio until invited in by your teacher. Put all your belongings ready into one bag including shoes. Clean socks must be worn at all times. We recommend purchasing our one size grip socks.
We ask that you wash your hands thoroughly/use the sanitizing gel located on the wall up the stairs and also outside our room.
1 person at a time will be asked to enter reception, put things in the locker. Leave the key in the door and enter the studio with your water bottle to the furthest away station first.
Those who find it more difficult to get to the floor can use the new Cadillac instead of the Towers so should enter first.
Our number 1 priority is your health and safety and of our team. In order to maintain the necessary safeguarding, the extra cleaning proceedures, the 50% reduction in studio capacity, and overall flow of people daily, whilst still being able to offer you a space, classes in the studio will be reduced by 10 minutes to 45 mins. At this point we will not be increasing our prices with the reduced capacity.
Windows will be open throughout the session for advisable ventilation.
Please do not wear zips and jewellery that can scratch our apparatus.
We recommend you bring your own pre filled water bottle. Water is still available. No other items can be brought into the studio.
We are a nut free zone due to Michelle's severe nut allergy. Please ensure you do not bring any nuts into the studio, and always wash your hands if you have been in contact with nuts.
Classes will now be 45 minutes to allow for more time for post class cleaning, ventilation, to avoid next session attendees arriving as you leave.
All apparatus will be cleaned down by clients using Super Sani Cloths, as well as the locker and key post exit after the session. Staff will then further clean the studio and the high contact areas. Another deep clean will be done regularly.
When you leave, please take your bag with you (clean and use again!) Do not leave bags in the locker.
Please note there is no admin at the studio, continue to use our email address to contact Bron.
OUR REQUEST TO YOU
Our studio is still significantly impacted by COVID-19, our class capacity is reduced to 4 only. We are doing our best to come back from all of this and still provide the absolute best in the Pilates method for you. We will be trying to allocate a studio class slot to you where possible and you will be able to still do online classes too, but we cannot fill studio spaces last minute and continue to pay our staff without significantly impacting us even further if we have classes with only 2-3 attendees. Everyone is desperate to get a space, so please do make sure you attend classes or cancel them well in advance if you know you are on holiday. Only classes with 4 will be able to continue on the timetable.
Oh and P.S.- we nearly forgot to tell you that the Pod had a few babies whilst you were away! We are now proud parents of a Cadillac, a second Wunda chair, a hand Tensometer (for hand, wrist, finger grip, strength and mobility), and a breath-ocizer (for when the virus has gone and we all need help working on our breath control, singing, stiff thoracic spines.)
You can't knock us down- we're coming back fighting!!
Hertfordshire's only fully equipped Classical Pilates studio!
What's the Cadillac? The original "Joe Pilates Gymnasium" Click here for an inspiring demo video by the amazing Jean Claude from Bluebird Pilates in Germany.
See you soon!
Michelle, Ed, Clair, Rufina, Dawn, Ellen and Bron x