How Pilates helps
Whether you're practicing Pilates using the mat or the apparatus, your goal is the same; strength, stability, stretch, control and eventually stamina. Pilates is a system of exercises done on the Mat, Reformer and an entire studio of apparatus from Wunda chair, High chair, Cadillac, Spine Corrector and lots more. It's a full body conditioning technique that is low impact and good for everyone who wants to take care of their back, joints and vital organs. It does this by either:
Preventative exercise –  to help you maintain your physical wellbeing and health, whatever your age, and prevent the likelihood of injury and pain.
Post injury recovery – for those who have pain, injury and dysfunction and have been recommended by a medical practitioner to start Pilates to give the body more support, strength, flexibility and mobility.
Mental Strength
Pilates is a mind-body form of exercise, that works on breath to help with more mindful flowing movement. It requires full concentration of the mind over the "powerhouse" to move your limbs, which relieves stress.
The positive impact of exercise on improving our mood and general mental wellbeing is widely known.
The Pilates Pod prides itself on being a body positive and inclusive fitness studio, that promises to make you feel good about yourself and what you can achieve. We believe in helping you achieve success from whatever you are doing, no matter how basic, no matter how tiny, and in turn you will feel great about your journey.
Director Michelle, leads the team in this with her background in psychology and mental health in exercise training. Find out more about the Your Body Rocks movement. You can also check out Michelle's personal Instagram page, Mind Movement Matters Michelle.
"Since joining The Pilates Pod, my back is stronger and I can now lift my grandchildren without back pain, which is wonderful. The teachers are great and after attending class I feel two inches taller."
Get Started…
One size never fits all. That's why we like to meet all new members for a 1:1 first.
It helps us determine where you're at, what you individually may need to modify, in which ways to progress your journey, as well as ensuring a safe introduction to using the apparatus.
Find out our new client introductory offers here.
"Contrology develops the body uniformly, corrects wrong postures, restores physical vitality, invigorates the mind and elevates the spirit. "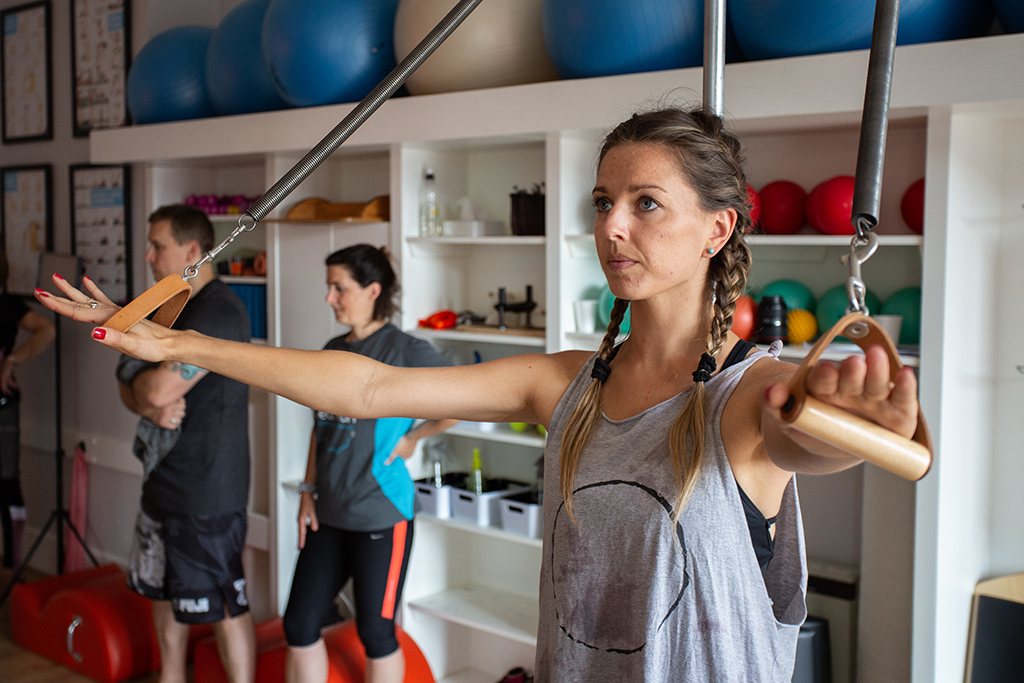 Physical Strength
Pilates works the body inside- out! We teach you how to connect with your deepest abdominals from day one, which builds stability and control over your pelvis and spine.
Everywhere else in your body, you have bones to support you, but in the centre of your body you have a void! The abdominal muscles from the front, with the pelvic floor underneath, the obliques muscles at your waist/sides, your glutes and spine at the back and your diaphragm above, all work together like a cylindrical drum to support your back, joints and your vital organs!
That's why Joseph Pilates so cleverly put so much emphasis on this central area, what we refer to as the "powerhouse" as without it, everything falls apart. Poor posture, joint issues, bad backs, shoulder restrictions, knee issues, pelvic floor issues etc all stem from either a weakness or over tightness in this area.
It's from this foundation and place of stability, that all movement can happen with ease and not injury. Think of a boxer who takes a blow but can regain composure to react, or a dancer that can move with grace and tempo without causing injury, or a grandmother who can do the gardening without suffering 3 days in bed afterwards with back pain or a runner who can do a 10k run without getting knee pain. It literally returns you to your life, whatever that looks like!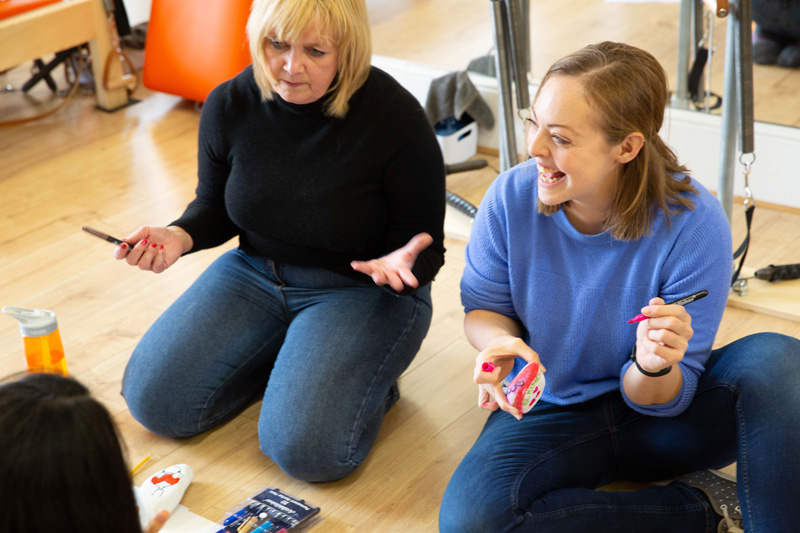 Sense of Community
At the heart of The Pilates Pod is our community of clients & teachers. Whether we're together in the studio, on a virtual class or sharing a giggle on Facebook or Instagram, our love of Pilates and taking care of ourselves is always front of mind. We're passionate about supporting the local community and shopping local, especially with so many fantastic independent businesses in the area. That's why we get involved in many events and fundraising for the town, including the Hitchin Half Hard Marathon, Bancroft Day, Fitness Festival, Health and Wellbeing Day, Indie Day.
"Great friendly team, good communication, excellent results for my back and the Pod has created a supportive community."
"It's always been more than just the Pilates. Right from the very start, we were clear on making the right environment where people would feel supported, guided and cared for, along with excellence in Pilates training. I think we've done that, that's why we're a Pilates Pod and not a Pilates Warehouse."
Read more about our testimonials here.